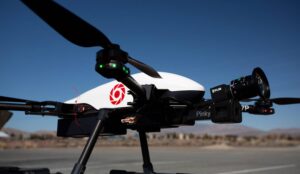 Iris Automation, a pioneering developer of UAV (unmanned aerial vehicle) and drone collision avoidance technology, has partnered with Unmanned Systems Technology ("UST") to demonstrate their expertise in this field. The 'Gold' profile highlights how their Casia detect-and-avoid system enables Beyond Visual Line of Sight (BVLOS) operation for industrial UAVs, unlocking safer and more efficient extended-range flight.
Casia is a computer vision-based UAV detect-and-avoid system that enables safe and reliable BVLOS operation. The combined hardware and software solution utilises state-of-the-art industrial cameras to provide full situational awareness to sense and detect obstacles and other aircraft. A sophisticated computing platform, based around the NVIDIA Jetson TX2 and proprietary intelligent algorithms, makes rapid real-time decisions and determines the safest course of action to avoid collisions.
Casia is a flexible, self-contained system with seamless plug-and-play capabilities that can be integrated into almost any UAV platform, including custom and COTS multirotor, fixed-wing, rotorcraft and hybrid drones. It is compatible with a wide range of UAV autopilots, including PX4, ArduPilot, and Cloud Cap Technology.
The system, featuring an ultra-low SWaP (size, weight and power) footprint, is modular and easily upgradeable, with configurable camera modules and a wide range of power inputs. Casia features multiple methods of integration, including bare-board and software-only options for maximum flexibility.

Casia is available in three variants: Standard, Long-Range, and the Casia 360 all-round field of view five-camera solution for maximal situational awareness. Casia 360 is the first commercially available 360-degree radial computer vision Detect-and-Avoid system for drones.
To find out more about Iris Automation and their Casia detect-and-avoid system for UAVs and drones, please visit their profile page:
https://www.unmannedsystemstechnology.com/company/iris-automation/