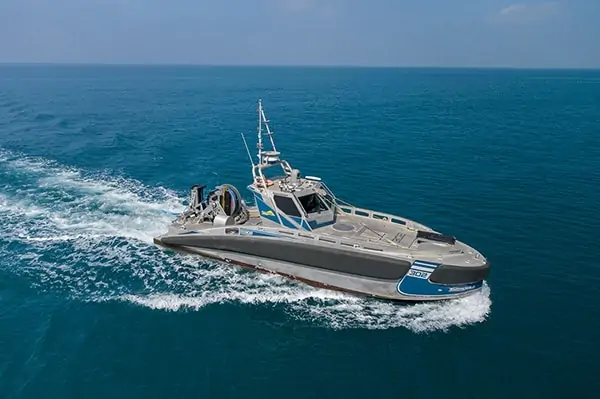 Elbit Systems has successfully integrated and tested a low-frequency towed sonar system, known as the TRAPS-USV (Towed Reelable Active Passive Sonar for Unmanned Surface Vessels), onboard the company's Seagull USV.
The TRAPS-USV version is a compact variant of the TRAPS, an operationally proven technology that is designed for detection, classification, localization, and tracking of submarines in ASW (anti-submarine warfare) operations. TRAPS systems can be permanently fitted to a vessel or temporarily housed onboard in a container, with variants available to suit any size and purpose of vessel. The TRAPS-USV is a lightweight version that still maintains all acoustic active sonar capabilities of the regular TRAPS.
The successful sea trials of the integrated system included multiple deployment and recovery cycles, towing at different speeds and transmission at various power levels. Integration of the TRAPS-USV enables the Seagull USV to perform Anti-Submarine Warfare operations on-the-move, substantially extending its operative range and further enhancing its flexibility.
The Israeli Navy has also rrecently converted a Helicopter Long-Range Active Sonar (HELRAS) dipping sonar for use with the Seagull USV.
The Seagull autonomous multi-mission USV features a plug and play, modular mission payload suite and in addition to ASW, is also designed to carry out mine countermeasures (MCM), electronic warfare (EW), maritime security, underwater surveys and other missions.