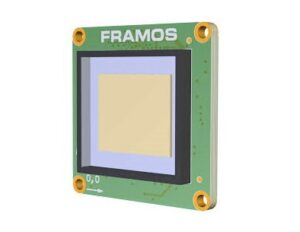 FRAMOS, a developer of embedded vision technologies for drones and robotics, has announced the launch of its new FSM-IMX530 sensor module, based around the Sony IMX530 global shutter CMOS image sensor. The new sensor features SLVS and SLVS-EC interfaces, a new sensor adapter for MIPI CSI-2 conversion, and an updated driver for the NVIDIA Jetson TX2 and AGX Xavier AI and robotics development boards.
Sony's back-illuminated CMOS image sensor is mounted on a 28 x 28 mm FRAMOS sensor module. The module's SLVS-EC interface offers up to 8 lanes of 5 Gbps each, allowing maximum frame rates of 98 fps at a resolution of 24.5 MP (5320 x 4600 pixels). Pixels are sized at 2.74 µm, nearly doubling the pixel density compared to earlier sensor generations. With the IMX530, Sony has also increased quantum efficiency to 74% and reduced noise further, making the sensor especially suitable for challenging lighting scenarios.
The optional sensor adapter for the FSM-IMX530 performs MIPI CSI-2 conversion on the SLVS data from the sensor. Via a 60-pin Hirose connector, the adapter enables a direct link to the Systems-on-Chip (SoCs) most commonly used for image processing, such as Jetson TX2 and AGX Xavier. Both these platforms are supported by a comprehensive FRAMOS software pack update on Jetpack 4.2 and Linux for Tegra (L4T) version 32.2 as part of the FRAMOS sensor module development kits.
André Brela, product manager at FRAMOS, commented: "The new Sony Pregius S generation sensors have outstanding technical characteristics. By bringing them into the FRAMOS sensor module ecosystem, we provide an open, off-the-shelf, plug-and-play environment that supports all users who want to integrate these sensors into products and systems they are developing. For the first time, we also offer optional data conversion from the sensor's proprietary interface to the widely used MIPI CSI-2 standard. This is done on a specially developed version of the FRAMOS sensor adapter. We therefore enable development teams who lack dedicated FPGA resources to access this technology immediately, without development expenses. Our ecosystem and service offering allow our customers to decide for themselves how much support they want from FRAMOS – to bring successful products to market as quickly as possible and with the least possible risk."
Find suppliers of Cameras, Imaging & Vision Systems for unmanned systems >>