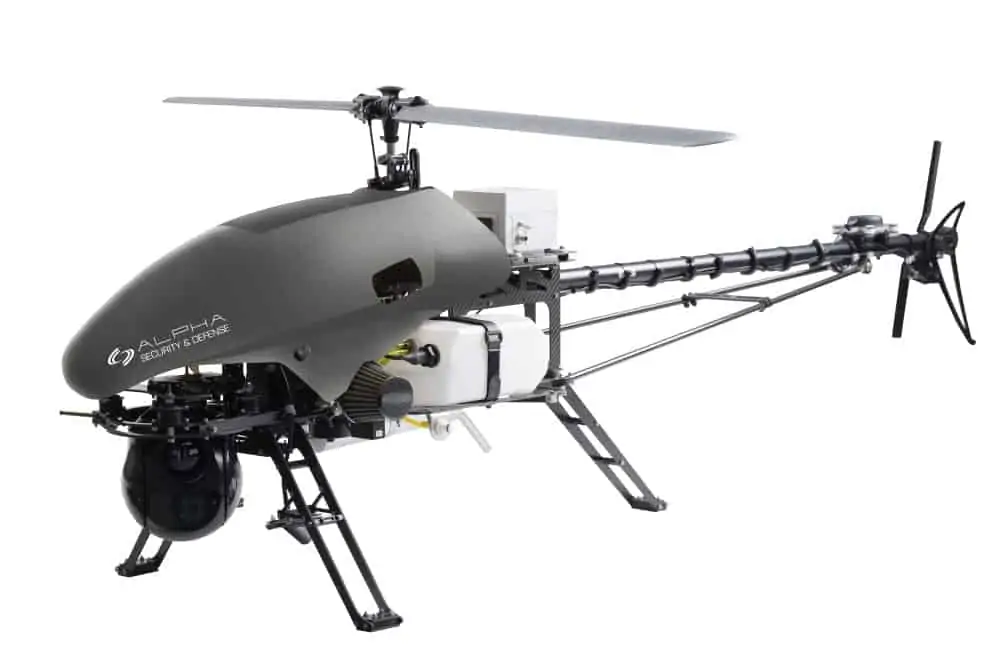 Alpha Security & Defense has announced that its Alpha 800 tactical mini-helicopter UAS (unmanned aerial system), designed for ISTAR (intelligence, surveillance, target acquisition, and reconnaissance) missions, has been launched in Israel. The announcement was made at the UVID 2019 exhibition in Tel Aviv.
The Alpha 800 is a NATO Class 1 mini-UAV that is fully autonomous, compact, agile, and capable of operating at ranges of up to 50 km for up to 3 hours. Featuring a payload capacity of 3kg, the aircraft can operate under varying weather conditions such as rain and wind, and incorporates autonomous landing sensors. The Alpha 800 can fly in GPS-denied environments, and has a unique autonomous auto-rotation capability for increased safety in case of emergency. The gasoline-powered platform is capable of autonomous landing even on moving vessels or motorized surfaces.
Eric Freeman, Founder and CEO of Alpha Security & Defense, commented: "This is a strategic step to strengthen the relationship between our company and the security market in Israel. The company, which has previously worked in various collaborations with the Israeli market, now wants to expand its collaboration and provide the market with additional solutions in the future, with advanced technologies such as the Alpha 900 system that the company is currently developing."
Alpha Security & Defense is also currently collaborating with other global companies on the Respondrone project – an EU-funded initiative that is developing and applying a drone-based situational awareness system in emergency situations, providing critical information and communication services to first responders.