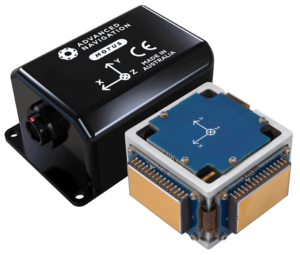 Advanced Navigation, a developer of sensor technologies for drones and robotics, has announced that it has raised AUD $20 million (USD $13 million) of funding that the company will use to finance a significant global expansion into the USA and Europe, as well as to accelerate research and development programs for transformative new robotics, navigation and sensor technologies. The Series A funding round was led by Main Sequence Ventures' CSIRO Innovation Fund, alongside US venture firms Brick & Mortar Ventures and In-Q-Tel, Inc.
The company's high-precision AI-based navigational technologies and robotics are used by four of the top five car manufacturers, nine of the largest ten defence companies, and multinational companies including NASA, Boeing, Airbus and Tesla as well as world class racing yachts such as Wild Oats XI and Oracle Team USA.
Advanced Navigation has developed an advanced AI algorithm that has resulted in its systems being smaller, more accurate and more reliable, making them ideal for a wide variety of state-of-the-art aerospace, automotive, defence, marine and subsea applications, such as self-driving cars, robotics, autonomous drones and submersibles.
Xavier Orr, co-founder and co-CEO of Advanced Navigation, said: "Incumbents in the navigation technology industry are still developing equipment based on an algorithm developed in 1967 — we're bringing an age-old industry into the 21st century. We founded Advanced Navigation out of that necessity to change an industry stuck in the past. What we've developed allows businesses to do incredible new things that weren't previously possible, powering next-generation applications across land, sea and air."
Chris Shaw, Advanced Navigation co-founder and co-CEO, said: "There are tremendous benefits for partnering with each of our investors. Main Sequence Ventures are deep-tech specialists and will give us a huge opportunity to work with governments and tap into universities working on revolutionary technologies.
"The US is a key growth market for us, and working with Brick & Mortar helps us capitalise on that. These guys are the domain experts in the construction industry, and will open doors for us. The additional funds will allow us to continue investing in best-in-class research and development in this area, for defence and commercial applications globally, and double down on our growth in the US and other global markets."
Martin Duursma, Partner at Main Sequence Ventures, and Curtis Rodgers, Principal at Brick & Mortar Ventures, will join Advanced Navigation's board.
Duursma said: "Advanced Navigation is an incredible and untold Australian success, already powering many autonomous and robotics capabilities we will see over the decades to come. We really like the way that the company collaborates with Australian universities to develop new and groundbreaking product capabilities. There's no one quite doing what the company is doing today and we're thrilled to have Advanced Navigation join the Main Sequence portfolio and help them expand even faster across the world."
Rodgers commented: "The ultra-precise navigation and positioning capabilities of Advanced Navigation's technologies have a number of potential applications in construction and adjacent industries. We're excited to work with Xavier, Chris and the team to bring these possibilities to life on the global stage."