Reventec Ltd., a specialist designer and manufacturer of liquid level, position and flow sensors for extreme environments, has partnered with Unmanned Systems Technology ("UST") to demonstrate their expertise in this field. The 'Gold' profile highlights how their capacitive level sensors can be used by integrators and manufacturers of fixed-wing and VTOL unmanned aerial vehicles (UAVs) and drones.

Reventec's UAV fuel level sensors use capacitive technology to detect the level of fuel within a fuel cell/tank. The sensors are solid-state with no moving parts and are designed for high-reliability in harsh, high vibration operating environments typically experienced in UAV fuel measurement applications.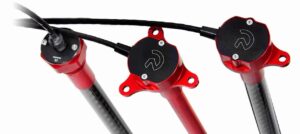 The sensors are available with one of five different mounting formats (1-bolt, 2-bolt, 3-bolt, 5-bolt or AN-8 threaded) to ensure compatibility with a wide range of existing UAV fuel tank configurations. They are manufactured to the exact length required (up to 700mm), and are compatible with all UAV fuel types including petroleum/gasoline, heavy oil, diesel, AvGas and bio blends.
Reventec can also design and develop completely bespoke liquid level sensors for challenging integration requirements. Examples include sensors with a bend in the probe section (for L-shape fuel tanks); with a 90 degree angle in the mounting head for side-mounting; and with probe materials such as carbon-fibre for size- and weight-constrained unmanned aerial systems (UAS).
To find out more about Reventec and their capacitive liquid level sensors for UAVs, please visit their profile page:
https://www.unmannedsystemstechnology.com/company/reventec/