Alpha Security and Defense, the military business unit of Alpha Unmanned Systems and a leading developer of military-grade gasoline-powered helicopter UAVs (unmanned aerial vehicles), has partnered with Unmanned Systems Technology ("UST") to demonstrate their expertise in this field.  The 'Gold' profile highlights how their Alpha 800 tactical drone and complete drone packages can be used for ISR (Intelligence, surveillance and reconnaissance) and ISTAR (intelligence, surveillance, target acquisition, and reconnaissance) missions.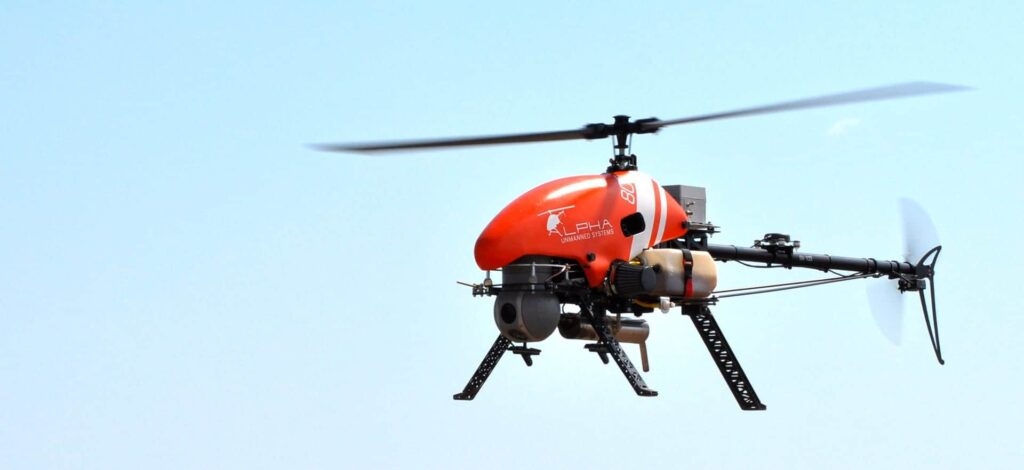 The Alpha 800 is a tactical unmanned aerial vehicle designed for detection, identification and classification of both conventional and non-conventional targets. Classified by NATO as a Class 1 mini UAV, it features a comprehensive range of payloads and can be flown both autonomously or in manual mode. The flexible and easily manoeuvrable system can be unpacked, pre-flight checked and launched by two trained operators in under seven minutes.
A gasoline-powered engine gives the aircraft, which has a mean takeoff weight of 14kg including 3kg of payloads, an endurance of up to 3 hours. This flight performance gives the Alpha 800 an advantage over electric drones in the same weight class, allowing it to fly further and undertake more complex missions. A fully autonomous autorotation capability allows the UAV to be safely landed in case of engine or tail rotor failure.
The Alpha 800 integrates advanced GPS-denied navigation technology that allows the system to retain navigation and remote control capabilities in the event of UAV jamming attacks. Providing accuracy that exceeds that of standard GNSS-aided INS systems, the Alpha 800 uses its high-end VECTOR autopilot and integrated ADS (air data system) to calculate estimated wind and ground speeds. This provides sufficiently precise UAV position estimation to allow the aircraft to fly out of jamming range or return to a home position.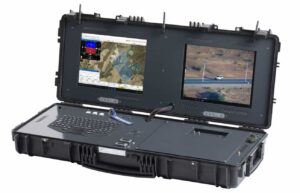 The G-Case Duo is a rugged, flexible Ground Control Station (GCS) for use with the Alpha 800 or a wide variety of other small military drones as well as USVs (unmanned surface vehicles) and UGVs (unmanned ground vehicles).
Featuring dual sun-readable industrial 15″ high-resolution screens, the G-Case Duo allows two operators to control the unmanned platform and payloads. Multi-channel operation allows for up to four vehicles to be controlled at once. A dual integrated battery with LCD battery level indicator provides up to 3 hours of operation, and the included smart charger allows for continuous operation. The user-accessible payload bay facilitates customized unmanned systems configurations.
The Alpha Complete Unmanned Aerial System packages two Alpha 800 helicopter drones with a GCase Duo Ground Control Station. It includes the following antenna options for a variety of operational range requirements: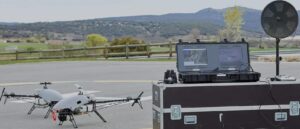 Short Range: the GCase Duo GCS includes an integrated antenna and datalink for operations up to 10km – no external antenna needed
Medium Range: the addition of a lightweight tracking antenna, which can be safety stowed in the UAV transport case, extends functional range to 30km
Long Range: a heavy-duty high-gain parabolic tracking antenna, using orthogonal dual polarization, boosts the flight range to 50km.
To find out more about Alpha Security and Defense and their tactical helicopter UAV solutions, please visit their profile page:
https://www.unmannedsystemstechnology.com/company/alpha-security-and-defense/