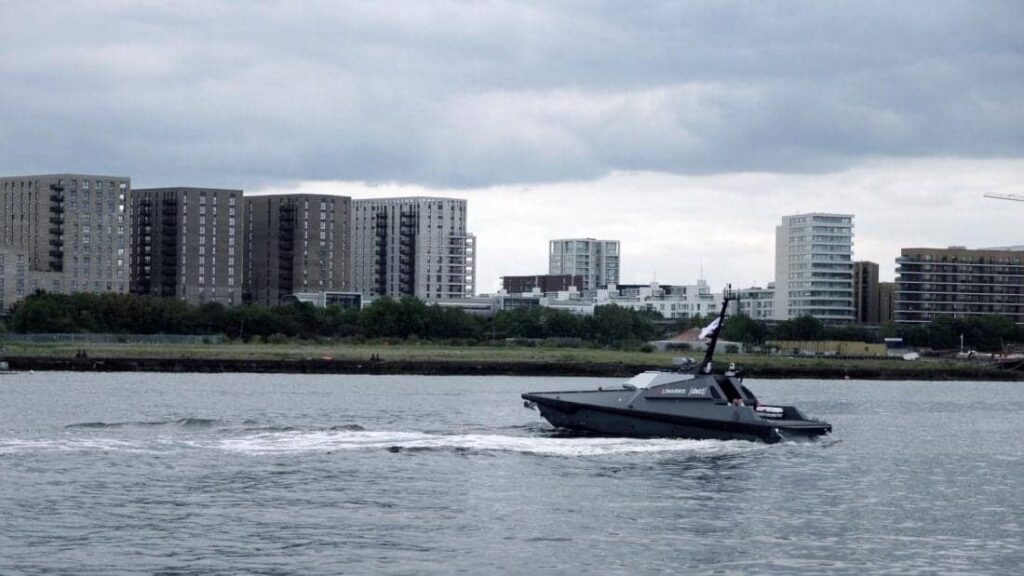 L3Harris Technologies has announced that it has delivered a new class of Autonomous Surface Vehicle (ASV) to the U.K.'s Defence Science and Technology Laboratory (Dstl). The Maritime Autonomy Surface Testbed (MAST) 13 is a 13-meter (41-foot) unmanned vessel built on L3Harris' ASView proprietary autonomous control system, and has been developed for the Royal Navy to experiment with new methods of maintaining advantages over potential maritime threats.
The MAST 13 unmanned surface vessel was officially unveiled at the DSEI 2019 trade show in London, and demonstrated unmanned surveillance and force protection in the Victoria Dock. L3Harris and Dstl have been collaborating since 2014 on unmanned vessel technologies that act as testbeds for new naval warfare concepts. Previous iterations of the MAST platform have been fielded during exercises such as Royal Navy's Unmanned Warrior in 2016 and the Australian Defence Showcase, Autonomous Warrior in 2018. MAST 9 is currently in Portugal for the NATO exercise 'REPMUS', carrying out reconnaissance, interdiction and patrol tasks using beyond line of sight capabilities.
"MAST 13 reflects the increased use of unmanned systems in the military domain. This vehicle serves as a test platform to support new concepts for the Royal Navy, allowing them to exploit unmanned systems and maintain a technical advantage," said Alasdair Gilchrist, Above Water Systems Programme Manager, Dstl.
"As the programme continues, we welcome collaboration with other organisations to test new algorithms, sensors, payloads and novel concepts. We encourage any such organisations to get in touch."
"Our long-standing collaboration with Dstl enables us to provide the Royal Navy with the industry's most advanced autonomous capability. MAST 13 combines fit-for-purpose design with integrated advanced autonomy," said Mark Exeter, Managing Director, L3Harris Unmanned Maritime Systems UK.