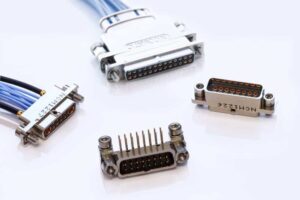 Nicomatic, a designer and manufacturer of electronic connectors and cables for UAVs (unmanned aerial vehicles) and other unmanned systems, has released an article detailing considerations to be made when specifying electrical connectors for the mil-aero market.
Harsh-environment military and aerospace electronics applications, which may include radar, cameras, vehicular electronics, avionics, embedded systems, drones and more, require specialized interconnect solutions. These solutions must not only be able to withstand extreme environmental conditions, such as extreme operating temperatures, high vibration, high pressure, and exposure to water or dust, but must also correspond to the high level of technical performance demanded by the final applications. To attain these performance levels, specifying engineers need to take many things into consideration.
The article provides details on the following factors:
Environmental conditions
Connector housing materials
Connector technology and design
Custom connector designs
The component integration process
Connector end-use
To find out more about specifying connectors for harsh-environment military and aerospace unmanned systems and robotics applications, read the full article on Nicomatic's website.