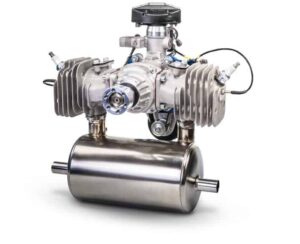 Hirth Engines has announced that it has demonstrated its future innovation programme to develop hybrid applications to harness the power of both an internal combustion engine and electrical motors to deliver unmanned aerial system (UAS) solutions for the future.
The need for endurance, reduced footprints, lightweight platforms, cost-effectiveness and safer operations are at the forefront of customers' minds when looking for solutions across a wide spectrum of UAV applications. These needs are best met by highly efficient and effective two-stroke propulsion systems.
Hirth Engines is now looking toward hybrid applications to harness the power of both an internal combustion engine and electrical motors to deliver solutions for the future.
"This is only the beginning and confirms that two-stroke provides a unique role in the future of UAV applications," explains Peter Lietz, Head of International Business Development for Hirth Engines. "The performance, durability and ease of maintenance for two-stroke engines is unbeatable and provides an ideal platform for the future of aviation, manned or unmanned. We are very excited to be exploring deliverable solutions for the future of UAVs".
Leveraging Hirth's heritage in two-stroke technology and utilising existing invention protections registered by the company, the development engineering team has committed to a journey of designing an engine that will achieve a hybrid future. The experts at Hirth recognise that the two-stroke engine is the perfect partner for electrical power units; low power to weight ratios enable higher payload capacity whilst lower torque and the absence of voltage peaks reduce energy requirements.
This research will deliver a whole new generation of applications across maritime, land and civilian sectors. UAVs, and in particular VTOL (Vertical Take-Off and Landing) platforms, will move to the next level of their development. Hybrid applications will bring significant benefits to UAV manufacturers, including extended ranges and longer endurance levels, lower emissions and increased fuel efficiencies.
Lietz continues: "The key partnership between advanced two stroke propulsion systems and electric power offers significantly better power-to-weight ratio and improvements in safety levels. Thanks to the use of a hybrid engine application, VTOL platforms in the future will be able to fulfil a wider variety of tasks in comparison to their fixed-wing counterparts."
Hirth Motors are available in the U.S. through UAV Propulsion Tech.