Drone Aviation Corp, a leading developer of unique aerial solutions for national security and defense, has partnered with Unmanned Systems Technology ("UST") to demonstrate their expertise in this field. The 'Silver' profile highlights how their tethered aerostat systems, based around a proprietary "smart leash" technology that provides persistent and reliable control, power and communications, can bridge the gap between large, complex aerostats and small short-endurance drones.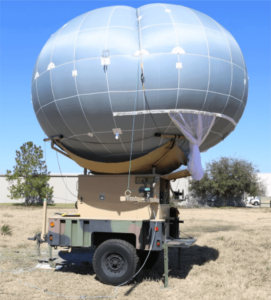 The Winch Aerostat Small Platform (WASP) is a mobile tactical aerostat capable of fielding a variety of payloads for communications, ISR and SIGINT, extending network range and enabling persistent connectivity.
Requiring only two crew members to operate, the WASP tethered aerostat can be deployed from a truck or a HMMWV (High Mobility Multipurpose Wheeled Vehicle/Humvee). The balloon can be set up and launched in 30 minutes, the system is rapidly reconfigurable and provides operational endurance of more than 72 hours. Its unique aerodynamic construction provides superior lift efficiency and stability enabling it to operate in winds up to 35mph with gusts up to 45mph.
The WASP system features a universal payload mount with a payload capacity of 20 to 130lbs and a flight altitude of up to 1500 ft AGL. It can be configured at a variety of levels, providing operational ranges of up to 8 km for human detection and up to 40 miles for communications.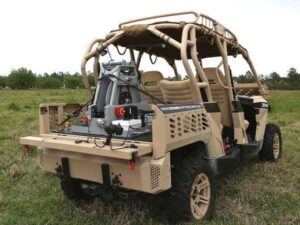 The WASP Lite is a compact aerostat offering a smaller footprint than the larger WASP system. Highly mobile, it can be deployed virtually anywhere – from a rooftop, pickup truck, boat or utility vehicle.
The balloon can be set up and launched by a single operator in 20 minutes, and while deployed or moored it can be relocated at speeds of up to 40mph. Providing more than 36 hours of flight endurance, the WASP Lite aerostat takes it primary power from batteries, which can be recharged with a small generator.
Like the WASP tethered aerostat, the WASP Lite can be equipped with a variety of payloads for ISR, communications and SIGINT missions, providing an extremely versatile solution for extending situational awareness on the battlefield.
To find out more about Drone Aviation Corp and their tactical tethered aerostats for surveillance and defense, please visit their profile page:
https://www.unmannedsystemstechnology.com/company/drone-aviation-corp/