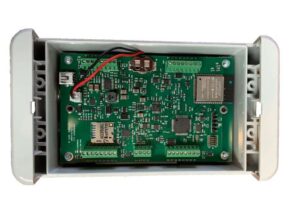 Anemoment LLC, a designer of specialized meteorological instruments for unmanned aerial vehicles (UAVs), has announced the availability of the Anemoment Data Logger 222 for use with its TriSonica Mini Wind and Weather Sensor. The Data Logger 222 simplifies data capture and integration of the TriSonica Mini Wind and Weather Sensor in fixed or mobile installations.
The model number (222) indicates 2x Serial instrument ports; 2x analog inputs; and 2x digital inputs. Able to operate from a simple AC power adaptor, a solar or wind-charged battery system, or an integrated battery pack, the Data Logger 222 provides the deployment flexibility that researchers require. Data captured is stored on a MicroSD card, or transmitted over a Serial or WiFi data link.
"Our goal has always been to make our products intuitive, reliable and extremely accurate," states Stephen Osborn, Chief Technology Office, Anemoment, LLC. "The Data Logger 222 continues that tradition. Gone are the days of hacking together a solution using multiple boards from multiple vendors, attempting to match voltage levels and power requirements, simply to integrate the TriSonica Mini into your project."
Data Logger 222 options include:
PCB Assembly (for integration directly into user's system)
Packaged in a water-tight box (accommodates a single TriSonica Mini pipe-mount version, with power and data connectors wired to the PCB inside the box)
The Data Logger 222 can accept data from two TriSonica Minis. With this option, the water-tight box accommodates two pipe-mount connectors and a single power and data connector.
Anemoment will be showcasing its product line at the AUVSI XPONENTIAL 2019 trade show in Chicago.