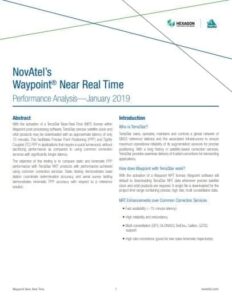 NovAtel, a leading provider of high-precision GNSS positioning technology for unmanned aerial vehicles (UAVs) and other unmanned platforms, has released a whitepaper comparing the performance of its Waypoint GNSS post-processing software, which incorporates a TerraStar Near-Real-Time (NRT) license, with the performance of other common correction services with longer latency.
Download the full whitepaper from NovAtel's website
NRT enhancements provide:
Fast availability (~15-minute latency)
High reliability and redundancy
Multi-constellation (GPS, GLONASS, BeiDou, Galileo, QZSS) support
High rate corrections (good for low noise kinematic trajectories)
The paper gives details of:
Performance evaluation of Static Precise Point Positioning (PPP), which demonstrates base station coordinate determination accuracy
Performance evaluation of Kinematic PPP, using aerial survey testing to demonstrate accuracy with respect to a reference solution
The test results show that both static and kinematic performance demonstrate similar accuracy no matter whether TerraStar NRT products, with only a 15-minute latency, or other products with 12-18 day latency are used. NRT subscriptions can therefore be invaluable to users requiring base station coordinate determination as quickly as possible after data collection, or a quick turnaround without sacrificing the quality of results delivered.
To find out more, download the whitepaper from NovAtel's website.