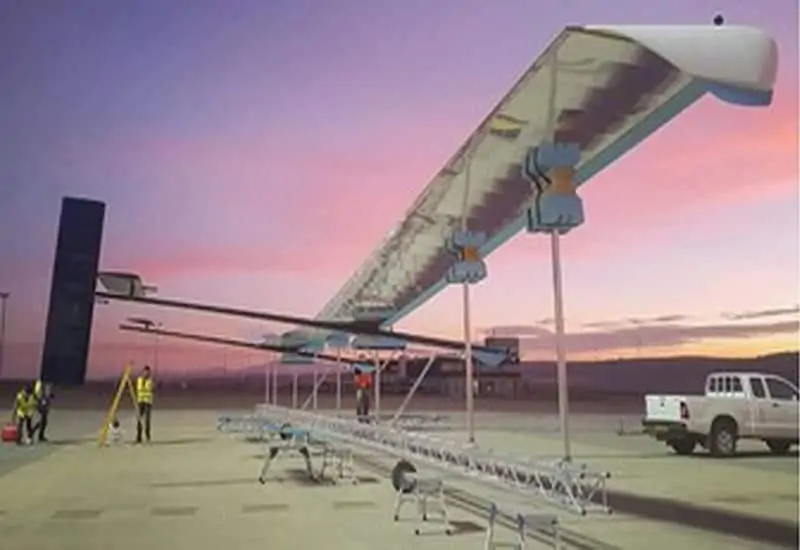 Ordnance Survey has announced that it is developing a solar powered, High Altitude Pseudo Satellite (HAPS) unmanned aerial vehicle (UAV) that will provide quicker and better images of the Earth while flying at 67,000 ft, nearly twice the cruising height of a commercial airliner.
The pioneering enterprise, called Astigan, will give quicker and better images of the Earth through a platform which will fly at 67,000 ft, nearly twice the cruising height of a commercial airliner.
The platform, which weighs 149kg and has a wingspan of 38m, can be positioned to view any part of the Earth and collect data over much wider areas compared to conventional aerial imagery capture. The platform has been designed to complement existing satellite services and it will fly for 90 days at a time without the need for landing, the equivalent of circling the Earth four-and-a-half times.
Business Minister Lord Henley said: "The UK has a particularly successful track record in mapping and associated technology. This exciting new unmanned aircraft project is a brilliant example of the innovative thinking behind our modern Industrial Strategy and should lead to global business opportunities.
"As well as having the potential to support key government objectives such as upgrading the UK's infrastructure, it could benefit emerging technological areas such as smart cities and self-driving vehicles which both rely on accurate 3D mapping."
Astigan has seen extensive collaboration among British SMEs, industry experts and universities and has already safely completed eight full scale flights. When it comes into production it has the potential to work alongside existing mapping capabilities to revolutionise the speed, accuracy and cost involved in mapping a country, and in some cases providing near real-time information.
Brian Jones, Astigan Managing Director, said: "This remarkable aircraft has met every goal and passed all milestones in its ambitious development programme so far. We are excited about the year ahead as we increase our flights and move towards a fully operational high-altitude test. By the end of 2019 we aim to be completing endurance flight testing, building up to 90 days non-stop, which is the operational capability we're striving for.
"It's incredibly exciting that the UK has developed this kind of technology, delivering satellite capabilities, unparalleled flexibility and improved efficiency, all at a vastly reduced cost. We look forward to completing this project and seeing the aircraft deliver on its outstanding potential, which should provide a range of scientific and environmental benefits."
Geospatial data and mapping derived from aerial imagery capture is only one example of the benefits of Astigan. Potential global markets and applications include climate and environmental monitoring (such as polar ice caps or deforestation); providing early warning, observation and communications over natural disasters; as well as supporting land management and urbanisation challenges across the world.
Neil Ackroyd, a Co-Founding Director of Astigan and Acting CEO of Ordnance Survey, said: "Astigan is another example of OS being at the forefront of geospatial technology. The platform has been designed to offer major cost and efficiency advantages over traditional methods. The company has produced a unique, British-made platform which can carry a range of interchangeable earth observation instruments such as high-precision cameras, atmospheric monitoring systems and multi-spectral sensors.
"Astigan supports Ordnance Survey in enhancing its capabilities to work in partnership with other nations across the globe. By aligning this capability with our world-class geospatial production and mapping expertise, we hope to support organisations and countries in tackling major societal challenges including urbanisation, land management, environmental change and mapping to support emergency response in the case of natural disasters."