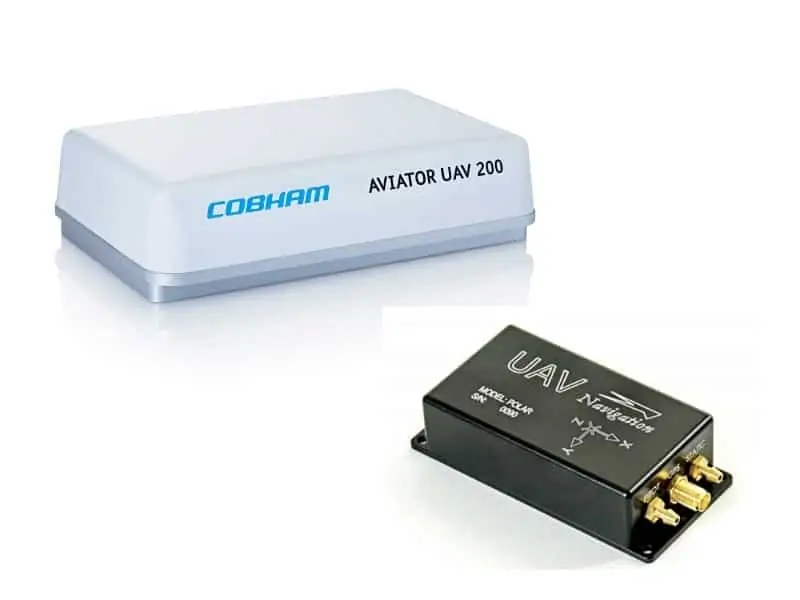 UAV Navigation has announced that it has partnered with Cobham to develop a small, light SATCOM solution for UAVs (unmanned aerial vehicles). The new solution integrates UAV Navigation's POLAR AHRS unit with Cobham's AVIATOR UAV 200 SATCOM connectivity system.
POLAR is a MEMS-based, Air Data Attitude and Heading Reference System (ADAHRS) and Inertial Navigation System (INS). It has been designed for system integration in avionics and other attitude sensing applications. Its reduced size, weight and interface options mean that it can be readily embedded into a system integrator's product.
In addition to being used either as a standalone unit or as an OEM component within a system, the POLAR is also used as the ADAHRS unit within UAV Navigation's range of autopilots, providing precise attitude estimation, dead reckoning navigation and exceptional performance in highly dynamic conditions.
POLAR has proven itself in a wide variety of dynamic environments giving comparable results – particularly in terms of inertial navigation – against Fibre-Optic Gyroscope Systems (FOGS) units. Although primarily designed for aeronautical applications, the POLAR has also proven to be suitable for other unmanned systems attitude sensing applications, such as terrestrial and marine platforms (e.g. antenna, weapon or camera array stabilization).
AVIATOR UAV 200 redefines UAV SATCOM connectivity by integrating everything into one compact, lightweight box. It weighs just 1.45 kg and delivers Inmarsat Class 4 services, up to 200 kbps data and full control of data channels.
With AVIATOR UAV 200, operators can now send flight commands to a UAV in near real time on Beyond Line Of Sight (BLOS) missions. By making immediate route adjustments as and when necessary, mission flexibility is enhanced and platform security also benefits. AVIATOR UAV 200 connects back to base via Inmarsat's SwiftBroadband service, providing a reliable command and control communication link for BLOS operations, as well as a real time feed from on-board payload sensors, via a single channel 'always on' data service.
When paired with the AVIATOR UAV 200, the POLAR provides translational and rotational dynamics parameters to enable precise satellite tracking and pointing. Several UAV clients are already using the POLAR to enhance the AVIATOR UAV 200 system with excellent results.
Alternatively, the platform can be equipped with a full UAV Navigation Flight Control System, based on the VECTOR autopilot. Information from the POLAR inside the VECTOR can be used by the AVIATOR UAV 200 in the same way to enhance satellite tracking and pointing.
As advanced technologies within the UAV industry improve and become increasingly available to platform manufacturers, the autonomy and range of UAV platforms is also expanding, meaning that BLOS operations are becoming more common. This in turn puts pressure on traditional RF datalinks which face particular challenges in a BLOS situation and quickly run into physical limitations caused by a variety of factors, including the atmosphere and curvature of the Earth.
Government programs such as PREDATOR (USA) and HERON (Israel) have used Satellite Communications (SATCOM) technology to overcome such range restrictions. However, SATCOM has traditionally been expensive, bulky, heavy, and with limited bandwidth. Lightweight systems such as the new solution from UAV Navigation and Cobham enable integration of SATCOM technology into a wider variety of UAV platforms.