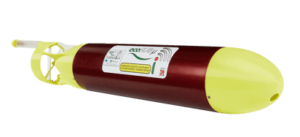 Planet Ocean has announced that its ecoSUB AUV (Autonomous Underwater Vehicle) has been successfully trialled in the North Sea off Orkney during a marine robot demonstrator mission co-ordinated by the National Oceanography Centre (NOC).
ecoSUB, developed by Planet Ocean in partnership with the NOC, is approximately 0.5 metres in length and weighs 4 kg, and is therefore classified as a 'micro-AUV'. Despite the small size, it is capable of diving to 500m (2500m for the ecoSUB-m25) and has sufficient battery power to stay underwater for several hours.
Two of the new ecoSUB-µ5-SVP vehicles were deployed from the Royal Navy's HMS Enterprise during the trial and successfully collected Sound velocity profile data to depths of 100 m. These data will be compared with those collected by traditional 'over-the-side' instruments deployed from the ship, allowing the Royal Navy and the Defence Science and Technology Laboratory (Dstl) to assess the benefits of this new robotic technology.
Whilst the subs were deployed and recovered by the RN, initially the vehicles were piloted by senior software engineer Jérémy Sitbon on board the Enterprise. Following his departure, further deployments were undertaken from Enterprise with piloting done remotely from NOC over the Iridium satellite.
Terry Sloane, Managing Director of Planet Ocean, said: "Micro-AUVs are low cost and highly flexible platforms with the potential to transform data collection across the maritime sector. This demonstrator mission provided a fantastic opportunity for us to deploy ecoSUBs from a Royal Navy vessel in challenging conditions, and we are delighted at the quality of data obtained and the ease with which the vehicles were released and recovered."
The ecoSUB-µ5-SVP carries a Valeport time of flight sound velocity sensor which is ideally suited for use on the ecoSUB vehicle. A unique feature of ecoSUB-µ5 is its ability to dive almost vertically, in a spiral with a very small footprint, allowing water column profiles to be captured. Traditional AUVs and gliders have relatively shallow dive angles which means that they need to travel horizontally some distance whilst acquiring data.