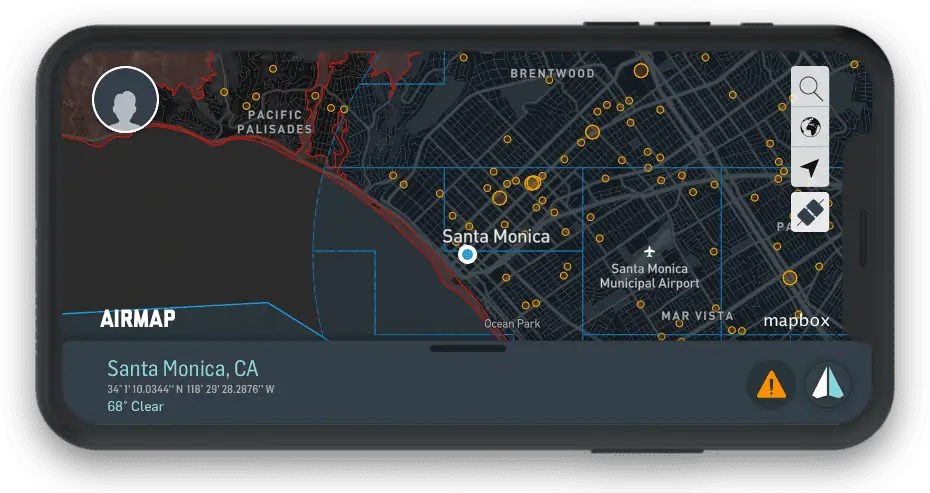 AirMap has announced that it has selected Microsoft Azure as its exclusive cloud platform to power its drone traffic management platform and developer ecosystem. AirMap will be partnering with Microsoft to evolve their products and scale to countries looking to enable the use of drones for commercial scenarios in a responsible way.
AirMap's migration to Microsoft Azure is part of Microsoft's commitment to supporting the rapidly increasing use of drones in the enterprise. The two companies will work together to help customers use drones to improve the efficiency and performance of existing business processes.
Drone adoption is having an impact across industries, from inventory tracking in manufacturing environments, to inspection of power lines and wind turbines by energy companies, to saving human lives in disaster recovery efforts. The data generated by drones can be infused with intelligence to augment the value that companies and governments deliver to customers and communities.
However, concerns about regulatory compliance, privacy, and data protection are still barriers for many organizations wanting to adopt drone technology at scale.
To help address these concerns, AirMap is working with civil aviation authorities, air navigation service providers, and local authorities to implement an airspace management system that supports and enforces secure and ethical access to low-altitude airspace for drones.
"AirMap is a critical enabler for countries and companies embracing drone technology," said Ben Marcus, AirMap cofounder and Chairman. "Microsoft Azure provides essential cloud computing infrastructure for the AirMap platform to orchestrate safe and responsible drone operations around the world."
"Drones are an exciting new compute platform and intelligent edge device with great potential to bring speed, efficiency and safety to critical jobs," said Sam George, Director, Azure IoT. "We believe it's critical to build an ecosystem that enables the safe and responsible use of drones for these jobs, and AirMap is a natural partner as a leader in drone traffic management."
Skyguide, the air navigation service provider of Switzerland, is the first to deploy a nationwide airspace management system using AirMap technology, powered by Microsoft Azure, to support the country's thriving drone economy. Earlier this year, thanks to the integration of AirMap services, the national postal service Swiss Post and drone manufacturer Matternet kicked off beyond visual line-of-sight (BVLOS) operations to transport laboratory samples between Tiefenau Hospital and University Hospital Insel in Bern. Other examples include the Lausanne-based commercial drone manufacturer senseFly, a Parrot company, which provides drone mapping solutions for surveyors, farmers, mining and quarry operators, as well as Zurich-based Wingtra, which specializes in building autonomous drones for precision mapping. Switzerland is home to a thriving community of drone companies and host of the world's first autonomous drone delivery network.
"We selected AirMap as our partner in deploying an airspace management system with the highest standards for safety and performance," said Klaus Meier, Chief Information Officer at skyguide. "AirMap's migration to Microsoft Azure brings enhanced security, capabilities, and innovation to Swiss operators, developers, and enterprises."
Through this collaboration, airspace authorities, commercial drones solutions providers and enterprises, will be able to better harness the power of AirMap's drone traffic management platform built on a trusted and scalable cloud platform to accelerate a safe and sustainable drone economy. Both companies remain committed to working towards a future in which organizations can maximize the potential with drones in responsible ways.