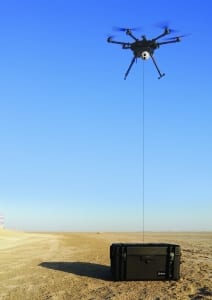 Elistair, a designer and manufacturer of tethered drone systems for aerial surveillance, has signed an agreement with the French Defense procurement Agency (DGA) for the financing of its AIRWATCH project, under the RAPID program – Dual Innovation Support Scheme.
The AIRWATCH project aims at developing a smart "dronebox", a tethered drone for aerial surveillance and telecommunications. A micro-tether will provide continuous power from a ground station, enabling unlimited flight time and opening up the range of drone applications for defense, private and public safety, or national security.
The DGA chose to support Elistair's last R&D project: developing an integrated and autonomous "dronebox" for surveillance thanks to tethered drones, specifically fitted to meet the most demanding and persistent missions' requirements. AIRWATCH system provides a full day and night coverage of wide areas for hours. Comparable to a 100 meter high virtual mast, the system offers a persistent aerial surveillance support for crisis management, firefighting, major events, video protection, law enforcement, or perimeters security.
Permanently reaching for technologic, strategic, and industrial breakthrough, the DGA brings its expertise to the French Armed Forces ministry and conducts armaments operations trials. As the first State investor, the DGA's main objectives consist in equipping Military Forces, preparing their future, as well as supporting the export of armament. Through its RAPID program – Dual innovation support scheme – the DGA supports the most innovative projects with a strong technological potential in the field of industrial research or experimental development for the defense sector. The eligible projects must be conducted by independent SMEs or intermediary companies and offer dual applications for military and civilian markets.