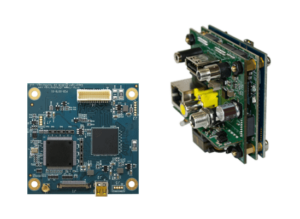 Z3 Technology has unveiled a dual camera H.265 4K video encoder system designed for visible monitoring and IR solutions. The FV4K-DCK-10 incorporates the ability to encode dual cameras/sensors up to full 4K video and allows for a visible camera and an infrared or night vision camera, making it an ideal solution for dual camera inspection, surveillance, industrial and UAV (unmanned aerial vehicle) applications.
"The FV4K-DCK-10 is a natural extension of our Camera Solutions product line. By incorporating the ability to encode a 4K and thermal camera simultaneously on one system, we are enabling our customers to save money and space when upgrading or expanding their security infrastructure systems," Aaron Caldwell, CEO, Z3 Technology said.
Find suppliers of Cameras & Imaging Systems >
The FV4K-DCK-10 supports one Sony FCB-ER8300 camera up to 2160p30 and one thermal camera up to 1080p30, with the ability to select H.265 or H.265 for each camera independently, while only using approximately 4.5 Watts of power. The encoder can be configured to stream over IP and simultaneously record to USB or micro SD card.
The FV4K-DCK-10 is capable of interfacing with HDMI, LVDS, Parallel CMOS, parallel BT1120/BT656, Cameralink and Composite cameras. On-board interfaces include RS-485, RS-232, Ethernet (PoE enabled), Micro-HDMI output and Composite output. The video encoder features remote serial control protocol communications support for most cameras including Sony VISCA, DRS, FLIR and others over the IP network.
"Sony is pleased to work with Z3 Technology on providing best-in-class 4K industrial camera modules for Z3's unique dual camera encoding system. We anticipate that the Z3 FV4K-DCK-10 encoder will be widely deployed in challenging environments for security, surveillance, remote vehicle and inspection applications," said Marci Garcia, Senior Product Manager, Sony Visual Imaging Solutions, Sony Electronics Inc.