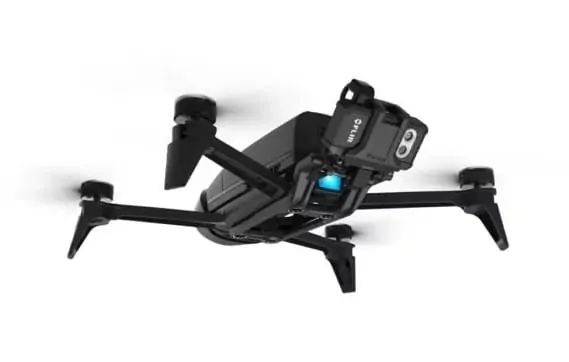 Parrot has announced the launch of Bebop-Pro Thermal, an all-in-one quadcopter thermal imaging solution specifically designed for small construction businesses, thermal inspection professionals and public safety services. The multipurpose quadcopter allows construction and rescue services to safely carry out inspections, with its two embedded cameras: a full HD video camera and thermal imaging camera.
The front full HD video camera helps construction professionals or rescue services to visually monitor a structure or a specific area of a building, while the thermal camera captures precise and detailed thermal images with the dedicated FreeFlight Thermal app.
The system is easy to set up, fly and repair, and lets the user live stream, record videos and take pictures of buildings, roofs, solar panels or specific areas in visual or thermal image mode. It quickly and safely provides highly accurate information and data to identify thermal loss or thermal activity, and can be used to support key decision making.
Parrot Bebop-Pro Thermal solution includes:
A compact quadcopter with a Full HD stabilized front facing camera, a FLIR ONE Pro thermal camera and a 32Gb memory
Parrot FreeFlight Thermal app, which transmits and analyses images captured by the quadcopter's cameras
A long range remote control Parrot Skycontroller 2
Parrot Bebop-Pro Thermal is based on the new Parrot Bebop 2 Power quadcopter, which has been modified to benefit industry professionals. Lightweight and compact, the quadcopter can be easily carried on any site, and is ready to operate in minutes. Due to the Parrot Skycontroller 2's long range, the pilot can control the drone with precision from a safe distance from a hot spot without any risk. Images are captured by the Parrot Bebop-Pro's Full HD 14MP front camera and the thermal camera positioned in a dedicated module at the back of the drone.
In addition to the Parrot Bebop-Pro Thermal settings and flight parameters, the FreeFlight Thermal app streams images from both cameras on the quadcopter (front and thermal) directly to a connected tablet. At any time during flight, the pilot can switch from a thermal image to a HD image, record video footage, and store captured content directly to the drone's 32GB memory.
The thermal camera is equipped with two sensors – an RGB sensor (1440x1080p), capturing exactly what the drone can see, and a thermal sensor (160x120p), which measures temperature differences. Data from both sensors are combined by the FreeFlight Thermal app to create precise and detailed images. Edge surrounding details are highlighted in the image, and areas with thermal loss or hot spots can be immediately identified. Touching one part of the connected tablet's screen will show the estimated thermal temperature captured by the sensors.
3 imaging thermal setting modes are available:
Standard: Thermal images, from red (160°) to blue (10°) scale are displayed, for quick identification of thermal losses.
Dynamic: The thermal colour scale is adapted to the ambient temperature. This allows the user to benefit from an accurate view of the thermal losses. High temperatures are highlighted in red, and cooler temperatures are displayed in blue.
Hotspot: This mode is adapted for fire safety professionals and emergency search and rescue specialists. Only the highest temperatures recorded are highlighted and combined with the RGB image.
Users can play video recorded using another colour scale setting and export them in a standard video format.
The Full HD 14MPx front facing stabilised camera of the Parrot Bebop-Pro Thermal enables a visual inspection of a building, and lets the pilot to obtain videos and pictures to understand the condition of a building. Files can be saved and used to provide evidence of a building's damage and estimate costs.