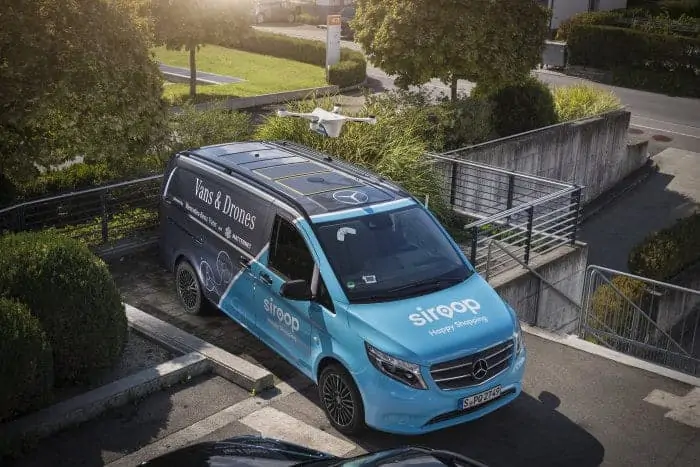 Mercedes-Benz Vans has announced that, in conjunction with US drone systems developer Matternet and Swiss online marketplace siroop, it has started a pilot project in Zurich to test an efficient van and drone-based system for on-demand delivery of e-commerce goods. The pilot project, which has begun its first trials, represents a significant milestone for autonomous aerial systems: it is the first time that extensive beyond-line-of sight drone operations with the use of vans as landing platforms are taking place in a major urban area to test a fully-automated e-commerce drone network. The development of the overall system uses an iterative approach and is based on early testing and continuous optimization.
During the course of the three-week pilot project, customers will be able to order selected products from online marketplace siroop that are suitable for transport by a Matternet drone, such as consumer electronics and other e-commerce items weighing up to two kilograms. Delivery will be made on the same day. The drones are loaded directly at the merchant and fly to one of two Mercedes-Benz Vito vans equipped with a precision landing technology. The van stops at one of four pre-defined points, called "rendezvous points", within the city of Zurich, where the van driver takes possession of the product and delivers it to the customer, while the drone returns to the retailer. The entire logistics chain from order receipt to delivery to the customer will be timed and compared against conventional delivery methods to gain insights into the efficiency of the solution.
With integrated precision landing technology on their roofs, prototype Mercedes-Benz Vito vans turn into connected, safe landing platforms for Matternet drone deliveries. The goal of the project is to significantly improve the time and service level associated with on-demand delivery, and consequently create added value for retailers and consumers. The operation has been authorized by the Swiss Federal Office of Civil Aviation (FOCA) following the Specific Operations Risk Assessment (SORA) methodology developed by JARUS (Joint Authorities for Rulemaking on Unmanned Systems) and was approved by all relevant Swiss air and ground authorities. Safety is the guiding principle during the pilot, which will run for seven hours per day, five days a week in favourable weather conditions only. Matternet drones are integrated in the Swiss airspace system using the same sense and avoid system used by helicopter operators and other users of the lower part of the airspace; and are equipped with a parachute system that is automatically deployed in case of a malfunction.
The Vans & Drones project was presented by Mercedes-Benz Vans and Matternet at the 'Van Innovation Campus' event in September 2016. The pilot project in Zurich, with siroop as the first system user, is the next step in the advancement of the concept. The shipment is not delivered to the consumer by drone, but rather to the delivery van, which handles delivery for the final segment of the last mile. The use of Mercedes-Benz Vito vans as intelligent, mobile landing stations for Matternet drones is suiting for a variety of use cases and offers several advantages, including:
Reduced overall delivery cycle and cost compared to existing courier service operations. Packages are delivered faster, irrespective of traffic in urban areas.
Integration of drone systems into the logistics chain, with no change in customer behavior. Customers will still receive their packages from a van driver in the exact same way they receive it today.
Gives retailers and logistics companies the ability to provide customers a true on-demand delivery solution, without the need for additional infrastructure. And, it allows companies with van fleets to further leverage them and add on-demand services.
Allows drones to land on the roof of a Vito van, approximately two meters above ground, ensuring the safety for passers-by.
The Matternet M2 drones used in the pilot can carry packages of up to two kilograms over distances of up to 20 kilometres. In recent months, the integrated system has been continuously refined and tested extensively in preparation for operation in an urban environment.
"The pilot project in collaboration with Matternet and siroop affords us the possibility to test our concept in real-life on-demand deliveries. We want to gain valuable insights for this and further concepts enabled through van and drone technology. We have the great opportunity here to conduct the most extensive testing in an urban environment to date. Validating our concept together with customers and project partners in an early phase will greatly advance the development. We are demonstrating what a practical system comprising drones and vans may look like", said Stefan Maurer, Head of Future Transportation at Mercedes-Benz Vans.
"We believe that drone-enabled logistics networks will transform how we access goods every day — we will be able to order something online, and like magic, receive it within minutes, for a fraction of the cost and energy expended today. Switzerland is at the forefront of this technological revolution — this is the first time that a drone delivery network is operating in a major European city and the first time a van and drone network is operating anywhere in the world. We hope that this pilot will give us greater understanding of how the public perceives a drone-enabled solution for e-commerce today and pave the way toward extensive use of these systems", said Andreas Raptopoulos, Founder and CEO of Matternet.
"Speed, flexibility and efficiency are key factors for our business, online retailing. These are precisely the aspects where the pilot project with Mercedes-Benz Vans and Matternet comes in. It allows us to further optimise the connection between our retailers and customers, and we fulfil the wishes of our customers for fast and flexible delivery. We are creating real added value for both sides and as a result get the chance to acquire more customers and retailers for our platform. It is especially of interest to us to test the customer need for drone deliveries and find out more precisely what products and collections are particularly suited for drone deliveries. We also expect to get important information about the handling at the retailer and last but not least also with regard to the acceptance at our customers", said Peter Rohn, COO of siroop.
The pilot project is the first step in an iterative process culminating in a system solution with a clear target vision: van fleets dynamically synchronised with drone fleets for efficient on-demand delivery with low energy footprint and impact of congestion. Drone deliveries will be dynamically integrated into conventional delivery routes. In this scenario, vans will not be required to drive to a small number of fixed "rendezvous points" to receive a drone. They will be supplied by a drone along their regular routes at suitable stopping points. This allows urgent shipments to be integrated into existing delivery runs and thereby to be delivered faster to the consumer.