Threod Systems, a leading developer and manufacturer of Unmanned Aerial Systems (UAS) and subsystems, has partnered with Unmanned Systems Technology ("UST") to demonstrate their expertise in this field. The 'Silver' profile showcases their range of UAS solutions for data-gathering in tactical and commercial applications, including:
The EOS Mini-UAS is a hand-launched, parachute-recovered electric mini-UAS designed to capture stable, detailed imagery for a wide variety of applications, including force protection, border security, first responder support and precision agriculture.
With a flight time of over 2 hours and a maximum altitude of 150m, the EOS features a fully gyro-stabilized two-axis EO/IR camera gimbal with onboard HD video and imagery recording, as well as streaming to a Ground Control Station. An advanced autopilot enables automatic takeoff and landing, automatic navigation between user-defined waypoints, and a variety of loiter modes and scan patterns. An AES-256-encrypted data link provides a line-of-sight range of over 20km.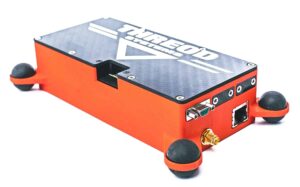 The TSAP-6000 autopilot is a modular, expandable system designed for fixed-wing and multirotor UAVs as well as UGVs (Unmanned Ground Systems), built around a powerful safety-critical TI Hercules ARM Cortex processor and triple redundancy architecture. Featuring state-of-the art adaptive control algorithms, it enables automated flight for a wide variety of unmanned aircraft missions. The TSAP-6000 can be interfaced with a range of external sensors, GPS and communications hardware via the dual CANaerospace bus.
The HSG Stabilized Dual-Camera UAV Gimbal, suitable for both fixed-wing and multirotor aircraft, provides both electro-optic and infrared capabilities, streaming clear and stabilized live geo-referenced video back to base. Advanced features include target tracking, geo-locking and moving object detection. The gimbal is available in a number of different sensor configurations, and can also be equipped with an optional IR illuminator and laser rangefinder for further functionality.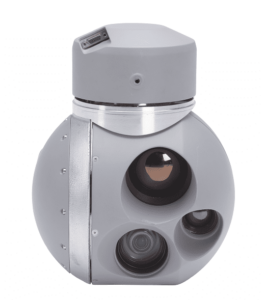 The Stabilized Triple-Camera Gimbal is a next-generation payload for fixed-wing and multirotor UAVs that incorporates an EO camera and two IR sensors with 25mm and 60 mm lenses. It features gyro-stabilized HD imagery and onboard recording as well as advanced features such as target tracking, geo-locking and moving object detection. The gimbal's modular design allows for custom sensors and optional capabilities such as a laser rangefinder, IR illuminator, laser target designator, or aerial mapping payload.
To find out more about Threod Systems and their range of Unmanned Aircraft Systems and equipment, please visit their profile page:
https://www.unmannedsystemstechnology.com/company/threod-systems/