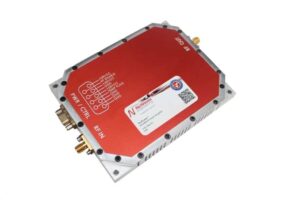 NuWaves Engineering has announced that it has released the latest in the company's NuPower small, lightweight and high-efficiency power amplifier (PA) family of products – the 100 Watt NuPower LS100A01 L & S-band PA.
The NuPower LS100A01 provides saturated RF power of 100 Watts typical in L & S-band (frequency coverage from 1.6 GHz to 2.5 GHz), with module efficiencies of up to 45%. With a nominal input drive level of 0 dBm, the NuPower LS100A01 offers 50 dB of RF gain, while weighing only 22.6 ounces. Further, the PA's aluminum chassis features improved heat dissipation characteristics for higher-temperature operation and, at a compact size of 6.5" x 4.5" x 1.0", it is small enough for integration into a wide variety of air- or ground-based tactical, test, or training platforms.
With its size, weight, power, and cost (SWaP-C) profile, the NuPower LS100A01 provides significant range extension for communications systems, datalinks, and telemetry systems. The PA also provides added power for electronic warfare systems such as airborne electronic attack (AEA) at low, medium, or high altitudes, and its low SWAP profile makes it ideal for medium-sized unmanned aircraft systems (UAS).
"For the systems integrator that requires greater communications range, the NuPower LS100A01 will provide a significant improvement with its 100 Watts of output power." said Jeff Wells, President and CEO of NuWaves Engineering. "NuWaves Engineering takes pride in offering first- rate communications solutions to the Warfighter. Our high-power amplifiers enable greater standoff distances for UAS and unmanned ground vehicle (UGV) applications, giving our armed forces the advantage in hostile environments."