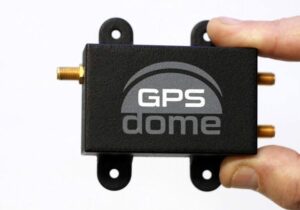 GPSdome has announced the successful results of tests of its commercially available product GPSdome 1.0, which protects GPS systems against jamming and spoofing.
"The successful tests were conducted by a US company that specializes in GPS spoofing," said GPSdome CTO, Moshe Kaplan. "Our GPSdome successfully protected GPS systems against real jamming and spoofing attempts. The experiment was simple; one system protected with our GPSdome continued receiving the real position and time and the other system, not protected, was 2000 meters off. Because of the very positive results of these tests, we are now preparing to test our GPS protection solution for drones that will take place within two weeks by a company that develops and manufactures drones."
"Our affordable GPS anti-jammer has been developed for civilian applications, where the existing solutions today, all military-oriented, retailing for more than $30,000, are simply irrelevant," said GPSdome CEO, Ehud Sharar. "Since we announced our innovative anti-jammer last May, we have seen considerable interest in our new product."
The new product was developed to address the requirements of autonomous cars, which are being developed by nearly every car company, as well as unmanned aerial vehicles (UAVs) that are being developed for a wide range of applications. Both autonomous cars and drones are heavily dependent on GPS in order to function, and therefore need protection from GPS disruptions.
The new anti-jammer was developed to address also the prevalence of small, low-cost GPS jammers that can easily be purchased online. Although the primary use of these jammers is by drivers who do not want their position to be known, the impact radius of these cheap jammers is hundreds of meters, and can also unintentionally disrupt critical systems such as airports and harbors, financial institutions such as banks and stock exchanges, as well as other infrastructures such as telecommunications and energy.
Find suppliers of GPS Products for Unmanned Systems >