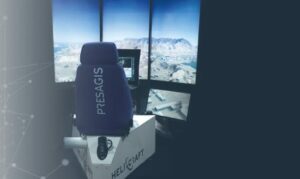 Presagis has announced the launch of its CRAFT series line of customizable aircraft simulation platforms.
The new CRAFT Series includes HELI CRAFT and UAV CRAFT, turnkey helicopter and unmanned aerial vehicle (UAV) simulation platforms, designed for clients seeking high-fidelity aerial simulation solutions in the research and design communities as well as for task and procedures training. More than 25 years' experience in the simulation industry has gone into the design of this new product line.
High-fidelity flight and avionics systems simulation with motion and vibration feedback, physics-based sensors and weapons and built-in Computer Generated Forces (CGF) all contribute to making CRAFT Series simulation platforms a unique proposition for the military simulation market.
"The CRAFT Series provides an unmatched simulation platform for situations where a highly realistic and immersive experience is sought after in a customizable, cost-effective product, " said Stéphane Blondin, Presagis' Head of Product Management and Marketing. "This novel approach allows pilots and payload operators to train for complex tasks and procedures as well as researchers to evaluate and experiment without the usual costs and accessibility constraints of high-end certified simulators."
In the area of research and development, the modular open-architecture system allows for "test bench" applications for a wide range of applications that include design and acquisition requirements analysis, custom software or hardware-in-the-loop development, all the way to end-to-end platform development based on the V-Model design approach.
"Our move into the customizable simulation platform space with UAV CRAFT and HELI CRAFT reflects our strategy to leverage our significant simulation expertise as well as software andand systems development experience to help clients accelerate market delivery and reduce costs, said Jean-Michel Brière, Presagis' General Manager.