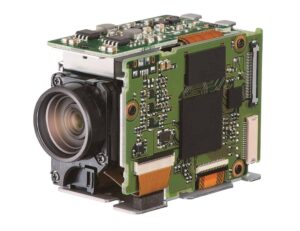 Tamron, an integrated optics manufacturer and leader in the security/surveillance equipment industry, has released the MP1010M-VC, an Ultra-Compact Camera Module with an industry-first* Optical Vibration-Compensation feature which assures high-quality image stabilization when images are captured in a vibrating environment.
The realized physical size and weight of the matchbox-sized module make it an ideal choice for drones, where weight, dimension, picture quality and vibration issues are essential.
Key Features
Camera Module with Industry-First* Optical Vibration-Compensation
Images can be blurred when captured under vibration, especially when images are captured at the telephoto-end; and compensation of blurring by means of post-processing software can degrade image quality. The MP1010M-VC camera eliminates image blurring by means of Tamron's proprietary optical vibration-compensation, and assures crisp and clear images at all scenes.
Miniature and Lightweight Camera Module
With an optical vibration-compensation feature integrated, the module only measures a total length of 58.4mm and weighs approx. 77g, which enables effective saving of space and payload.
Compatibility with Full HD
The video output is compatible with the industry-standard 1920 x 1080 Full HD. The module provides high-resolution, high-quality images optimum for surveillance as well as myriad of other applications.
Excellent Optical Performance
Tamron's proprietary optical design and advanced low-reflection coating technology, in combination with extensive engineering knowledge and in-house manufacturing know-hows, ensures superb image contrast without color blurs.
* in volume-production miniature-size camera modules (survey by Tamron, as of Jan. 2016)