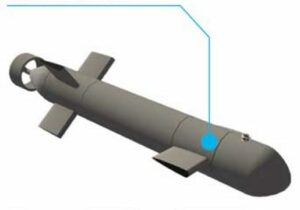 iXblue, a developer of navigation, positioning and imaging solutions, has announced the launch of the company's new range of Phins Compact inertial navigation systems, based on iXblue's silent true solid state Fiber-Optic Gyroscope technology. With the Phins C3, C5 & C7 range, iXblue is now providing fully scalable systems that cover all inertial navigation needs for any size of AUV (Autonomous Underwater Vehicle).
The iXblue's Phins Compact Family has been designed to offer the AUV industry players the ability to choose an inertial navigation system adapted to their vehicle, whatever their size and mission, from accurate navigation to survey grade. The Phins C3, C5 and C7 are fully scalable systems with a similar architecture and interface. Available as an OEM version, the three products all include the same algorithm and software, which enables seamless re-use of the control system on any vehicles' sizes or types, via modern interfaces such as Ethernet, helping to reduce integration and non-recurring costs.
Based on iXblue's IMU 50, Phins C3 is a brand-new inertial system designed for man portable AUVs, with a small and light structure, mostly for shallow water applications. Currently being assessed by several AUV manufacturers, the system has proven efficient, reliable and secure. The Phins C5 (ex Rovins 154, IMU 90-based) has already been utilised by many customers around the world who have been operating the system for their current applications. On the basis of the well-established Phins Surface INS, Phins C7 (IMU 120) has been optimized for a better AUV integration: now smaller and more practical, the system also includes an upgraded connector solution.
The Phins Compact Family benefits from the performance of the Fiber-Optic Gyroscope Technology: the silent-true, low consumption, solid-state and strap-down inertial systems enable stealth autonomous navigation, providing very accurate heading, roll, pitch, speed and position. The systems feature a MTBF of up to 100,000 hours and have no need for preventive maintenance. Phins C3, C5 & C7 are ITAR-free, dual-use systems and are all compatible with DELPH INS post-processing software to achieve high survey accuracy.
Paul Wysocki, iXblue Inertial Product Manager, commented: "Working in iXblue for 15 years now, I can remember the first AUV which were equipped by the Group. Offering a full range of INS for all AUV existing types represents a great achievement for the company today. Thanks to our trusted expertise, our passion for innovation, driven by our customers' needs, we are happy to provide both the military & offshore markets saving-cost INS adapted to their AUV requirements."