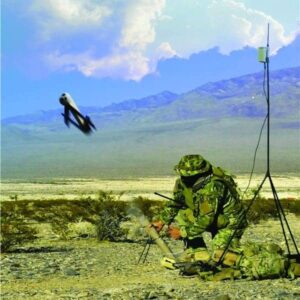 AeroVironment, Inc., a manufacturer of unmanned aircraft systems, has announced that it has developed a block upgrade, designated Block 10C, to its already fielded Switchblade Tactical Missile system. The Digital Data Link (DDL) incorporated into Block 10C provides a stable and secure encrypted communication link that enables more efficient use of existing frequency bands and significantly reduces the likelihood of signal interception. Frequency efficiency and secure communications are critical to warfighters in today's complex operational environment.
The Block 10C upgrade also enables the concurrent operation of multiple Switchblade systems in the same vicinity without signal conflict, provides the opportunity to extend operational ranges significantly using another DDL arbiter, such as AeroVironment's Puma AE unmanned aircraft system, and facilitates the automatic communication of mission plans from one AeroVironment unmanned aircraft system to a Switchblade, also known as sensor to shooter operations.
Bill Nichols of the U.S. Army PEO Missiles and Space Close Combat Weapons Systems (CCWS) Program office, which manages Switchblade, said "Switchblade Block 10C will increase the capabilities of the warfighter in the field through encrypted operation and improved Army-wide frequency de-confliction and management."
"The new Switchblade Block 10C is the result of close collaboration between our U.S. Army customer and the AeroVironment team," said Kirk Flittie, AeroVironment vice president and general manager of its Unmanned Aircraft Systems business segment. "Working with the Army and other users we continue to evolve and expand the capabilities of the Switchblade tactical missile system to provide troops with the most reliable and effective force protection solution possible. We are already working on future upgrades to this important capability to give our forces an even greater advantage on the battlefield."
AeroVironment and its strategic teammate for advanced warheads, Orbital ATK, will work together to produce and deliver the systems.