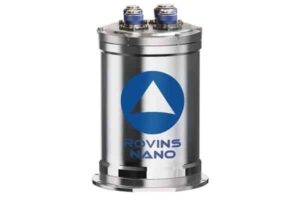 iXBlue, a developer of navigation, positioning and imaging solutions, has announced the launch of ROVINS NANO, a state-of-the-art inertial navigation system designed for ROV navigation. The new system was announced at the Oceanology International trade show.
Based on iXBlue's fiber-optic gyroscope technology, ROVINS NANO has been designed for ROV pilots performing maintenance and construction operations. It offers the stability and accuracy of the inertial position, outputting true north, roll, pitch and rotation rates. Paul Wysocki, iXBlue ROVINS NANO Product Manager, comments: "ROVINS NANO is able to directly transmit the ROV's position with extreme accuracy thanks to its integrated INS algorithm capable of collecting acoustic data. This is now possible regardless of the depth at which it is located: it is therefore not just an evolution, but rather a revolution for the Middle Water Station Keeping."
ROVINS NANO provides a high degree of navigation safety: even in "sparse array" LBL fields, the combination of ROVINS NANO and iXBlue's RAMSES acoustic system allows for extremely accurate positioning data.
Due to its compactness and open architecture with compatibility for all third-party sensors, ROVINS NANO is easy to integrate.
Wysocki continued: "We are very pleased to offer this unique system on the offshore navigation market. It does meet today's existing needs and perfectly addresses the operator's requirements in terms of reliability, ease of use and price."