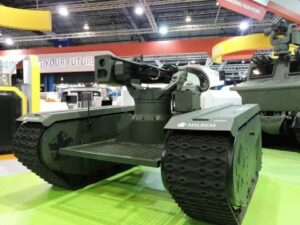 Milrem, a defence solutions provider specialising in military engineering, has unveiled its new modular hybrid unmanned ground vehicle (UGV), THeMIS (Tracked Hybrid Modular Infantry System), at the Singapore Airshow 2016.
A multi-mission vehicle platform that can assist and replace soldiers on the battlefield in complex and hazardous tasks, THeMIS is able to reduce operational risks and work as a force multiplier.
Together with Singapore Technologies Kinetics (ST Kinetics), Milrem has also developed the THeMIS ADDER, a variant of THeMIS equipped with ST Kinetics' remote weapon station, the RWS ADDER.
THeMIS is a highly modular platform that allows different superstructures to be mounted and integrated onto the middle vehicular platform for complex missions such as rescue, transport, reconnaissance. The flexibility and versatile nature of the system not only increases efficiency, it also significantly reduces the life cycle costs of these complex unmanned systems with simplified maintenance and spare supplies.
Watch the video:

"Unmanned systems will play a significant role in the development of military capabilities in the future. Within the next 10 years, we will see smart ground systems complementing the human troops during joint missions. We are excited to be in cooperation with ST Kinetics for THeMIS ADDER, and we're sure that this universal UGV concept will effectively supplement defence capabilities on a battalion level," said Kuldar Väärsi, CEO of Milrem.
In line with THeMIS, Milrem has also launched the Digital Infantry Battlefield Solution (DIBS), a tactical usage of smart unmanned systems up to battalion level. This is a program in development in conjunction with the Estonian National Defence College. DIBS analyses a wide variety of tactical user cases and provides new approaches to warfare doctrines. Practical solutions will be tested in corporation with Estonian Defence Forces.
Milrem has successfully conducted initial running tests for the THeMIS prototype, and THeMIS will be ready for production by the end of the year.