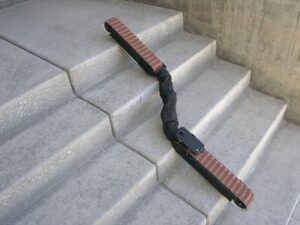 Sarcos Corporation, a developer of advanced robotic systems, has announced that it will unveil its "Guardian S" snake robot, a first-of-its-kind robotic unmanned ground vehicle (UGV), at the National Tactical Officers Association Conference.
The company claims that Guardian S is the first-ever commercially available energetically autonomous snake robot. The robot is the culmination of years of research and in-field trials and is protected by more than 50 issued patents. It is the newest addition to the Sarcos Guardian robot product line, and is designed for use in a wide range of industries including public safety, security, disaster recovery, infrastructure inspection, aerospace, maritime, oil and gas, and mining.
"Today's announcement further reinforces Sarcos' position as the world's leader in human-operated dexterous robots for unpredictable and unstructured environments," said Sarcos Co-Founder and Chairman Ben Wolff. "Our commercially available robotic products, and those in development, will save lives, prevent injuries and mitigate risk as they are deployed to perform some of the world's most dangerous and difficult tasks."
The Guardian S weighs less than 8 pounds and has up to 16 hours of battery life. It can carry a full suite of sensors and facilitates two-way real-time video and voice communications. The robot is intuitive to use and can be tele-operated from miles away to reliably traverse challenging terrain, including climbing stairs or passing through narrow culverts and pipes. It can also scale the inside and outside of storage tanks, pipes, maritime vessels, vehicles and other vertical surfaces.
Watch the Guardian S in action:

Sarcos will make the Guardian S available pursuant to a Robot-as-a-Service (RaaS) offering, with the company providing free maintenance and upgrades to the robot. Due to restrictions imposed by the International Traffic in Arms Regulations (ITAR), the Guardian S may only be supplied to companies and government agencies located within the United States, unless prior approval has been secured from the United States Department of State.