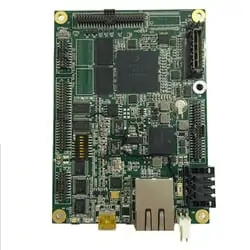 Micro/sys, a provider of industrial embedded computer products, has announced an enhancement to its 2.5-inch Pico-ITX™ ARM Cortex-A8 SBC5651 single board computer, with powerful vision capability made for industrial applications requiring video cameras. Featuring a CSI camera port, the SBC5651 interfaces directly to off-the-shelf 24-pin flex cable camera modules–making the SBC5651 well suited for small, low-power, portable, or desktop video applications. Featuring a turnkey Linux development station, the DKV-5651 Development Kit includes the SBC5651 single board computer, a 24-pin flex cable camera sensor module, cables, access to a host of software tools, and validated ready-to-run example programs. Typical applications for the SBC5651 include medical, security and robotics.
The powerful video and multimedia capability of the SBC5651 centers around Freescale's i.MX515 ARM CPU with its hardware acceleration capability that enables low-power video processing with high performance graphics. The i.MX515 includes Multi-Standard Hardware Video Codec, Autonomous Image Processing HD unit with an image signal processor, Neon SIMD, accelerometer, and Vector Floating Point coprocessor, plus an integrated 3-D graphics processing unit which provides 27 Mtri/sec and effective 664Mpix/sec and a 2-D graphics processing unit to accelerate Adobe Flash. Video up to 60 frames per second can be routed to the SBC5651 on-board 4G flash for processing by the user's video application in real-time or it can be saved in an on-board SD card for later retrieval. Users can view real-time streaming video through LCD touch screens (both LVDS and TFT) and can customize LED back light control, keypad interface, and an on-board microphone port for audio recording. All this without the overhead of using a USB port.
Running counter to the zero-support, zero-integration DIY trend, the DKV-5651Development Kit is fully integrated and includes software tools to aid users in implementing video applications. The Linux BSP comes with integrated drivers and APIs, including OpenCV and Gstreamer. The OpenCV libraries and programs offer pre-tested and validated implementations of complex vision operations, giving users access to 250+ optimized algorithms plus access to OpenCV's large technical support community and on-line tutorials that aids users with implementation of vision applications. Micro/sys' DKV-5651 provides additional custom out-of-the-box example programs including implementation of OCR, pattern recognition, and time stamping applications. Unlike DIY products, the DKV-5651 is a deeply supported and heavily integrated solution for portable scanning and other applications.
Consuming less than 1W with user-programmable speeds up to 800MHz, the SBC5651 offers performance while respecting low power operation. Unphased by the extremely compact footprint, the on-board I/O feature-set includes 24-bit LCD panel display (TFT or LVDS), TV OUT, audio, CAN, Ethernet, three serial ports, one USB mini-B OTG port, 3 additional USB 2.0 ports, one SD/MMC card slot, 23 GPIO, RTC, keypad interface, and more. To enable mounting in cramped spaces, USB, Ethernet, power, and SD/MMC standard ports are available on-board—eliminating the need for breakout boards or unnecessary cabling. The on-board StackableUSB I/O expansion with USB, I2C and SPI provides access to an additional wealth of plug-and-play off-the-shelf I/O boards with A/D, D/A, modems, GPS, sensors and other custom embedded I/O. The SBC5651 offers multiple power management options, including a LiIon battery, power through USB and standard 5V operation. In addition, the SBC and all components are RoHS compliant and are validated for operation in the extended temperature range from -40 °C to +85 °C.