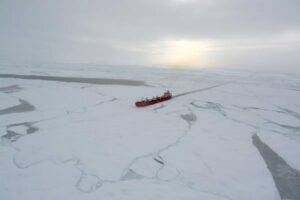 ING Robotic Aviation, a provider of robotic aircraft solutions, has announced that it has completed its two week mission to Northern Canada on board Fednav's ice-breaking cargo ship MV Arctic. Primarily a research and development initiative, the project led by Enfotec, was designed to assess various operational and technical aspects of ship-based UAV ice monitoring.
"Enfotec Technical Services is at the forefront of ice navigation expertise and technology. As such, we are always seeking to explore the potential of new and innovative products and solutions that can withstand the extreme weather conditions that are faced by ships such as the MV Arctic," states Alexis Dorais, Remote Sensing Analyst for Enfotec. "February voyages are some of the most challenging, even for this very capable vessel, and ING Robotic Aviation provided the equipment and personnel we required to continue our work with unmanned aircraft systems."
With a 2-person team and ING's Responder rotary wing aircraft, the company was able to effectively fly the system from onboard the moving icebreaker while capturing stunning imagery. The unmanned aircraft systems (UAS) were used to guide the ship on its journey from Montréal north to Deception Bay.
The photo accompanying this article is taken from the system looking back at the ship using a standard high resolution Nikon D7100 camera onboard.
"We are very excited to be working with Fednav on this project," states ING Robotic Aviation's CEO, Ian Glenn. "This is a demonstration of our teams' ability to discover new uses for robotic aircraft everyday. It's great to work with a company like Fednav that is committed to developing new procedures and technologies in some of the world's harshest conditions."
The company plans to use this research to further enhance their current Responder system.
"We are continuously evolving," said ING Robotic Aviation's Chief Operating Officer, Mr. Jeremy Byatt. "This project has provided us with useful insights to help us improve our capability for both shipboard operations and generally in the Arctic."