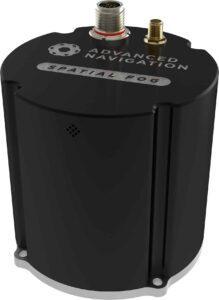 Advanced Navigation has announced the release of the second generation hardware of their Spatial FOG GPS aided inertial navigation system.
The update includes a major packaging change that more tightly integrates the fibre optic gyroscopes with the GNSS and INS. This provides a significant reduction in power consumption and heat generation as well as requiring only a single connector.
The update also incorporates a new GNSS receiver which adds support for L5 GPS signals as well as the Chinese BeiDou B1 and B2 satellite signals.
Together with the updated hardware, version 2.0 of the Spatial FOG firmware has been released which features significant enhancements to the north seeking algorithm. This allows Spatial FOG to accurately align under conditions that may not have been possible previously.
The updated version 2.0 hardware remains fully backwards compatible with version 1.0, featuring the same mounting footprint, electrical connections and protocol. For existing customers, Spatial FOG version 1.0 will remain available until 2019.