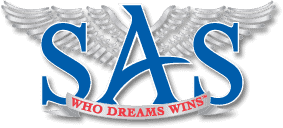 Special Aerospace Services (SAS), a leader in aerospace systems engineering solutions, announced today that it has a completed Space Act Agreement (SAA) with NASA Langley Research Center in Hampton, VA.
SAS is a Boulder-based high technology services and systems company supporting NASA, the Department of Defense (DoD), and the commercial space industry through systems engineering, Spaceflight Safety™, digital manufacturing, special research & development, launch services, and mission analysis.
NASA Langley will perform analytical research in support of SAS's Air Launch, integrated flight and Spaceflight Safety™ research. SAS will also engage NASA Langley in reviewing the Company's Airspace Safety™ and Unmanned Airspace Safety™ software and analytical tools.
"With the convergence of advanced space, aerospace, and flight solutions, working with NASA Langley will help SAS develop its systems and tools in a cost effective manner," said Tim Bulk, SAS Co-Founder and Executive Director of Technical Operations. "We look forward to working with an organization with such a rich history and experience in flight and space research as well as aerospace safety."