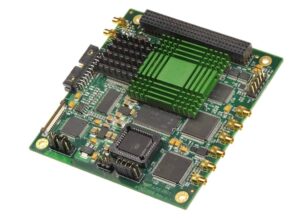 Advanced Micro Peripherals Ltd (AMP), a leading manufacturer of embedded video solutions, has introduced eVAC2000, a real time NTSC/PAL video overlay and video annotation controller for PCI/104 systems.
Advanced features include: a high resolution graphics accelerator, digital NTSC/PAL TV decoder, digital NTSC/PAL TV encoder and video overlay controller, all contained within a single PC104 card.
Accepting up to four composite NTSC or PAL analog video inputs including video cameras, digital video recording equipment or regular TV broadcasts, the eVAC2000 is ideal for a wide range of applications which require titles, dynamic grids or visible watermarking.
The high throughput, low latency eVAC2000 uses a high performance 64bit 2D graphics accelerator combined with an 8Mbytes frame buffer to deliver rapid video graphics processing.
"The eVAC2000 is the latest addition to our portfolio of embedded video solutions that are versatile enough to be brought to market with a minimum of delay and which are applicable for a wide variety of situations," says Lee Foss, Advanced Micro Peripheral's Founder and CEO, adding:
"For example, the eVAC2000 is ideal for multi-media displays, live video annotation or medical and industrial imaging."
Founded in 1993, AMP is focused on rugged, long-life embedded board and system products with supporting software development kits for video capture, annotation, recording and streaming. AMP is specifically involved in a wide range of ruggedized embedded control systems for autonomous vehicle control (UAV and UGV), robot handling equipment for bomb disposal (ROVs) and video monitoring for situation awareness.