Webinar Details
Hosted by Airspace Link
August 30, 2022, 17:00 (UTC)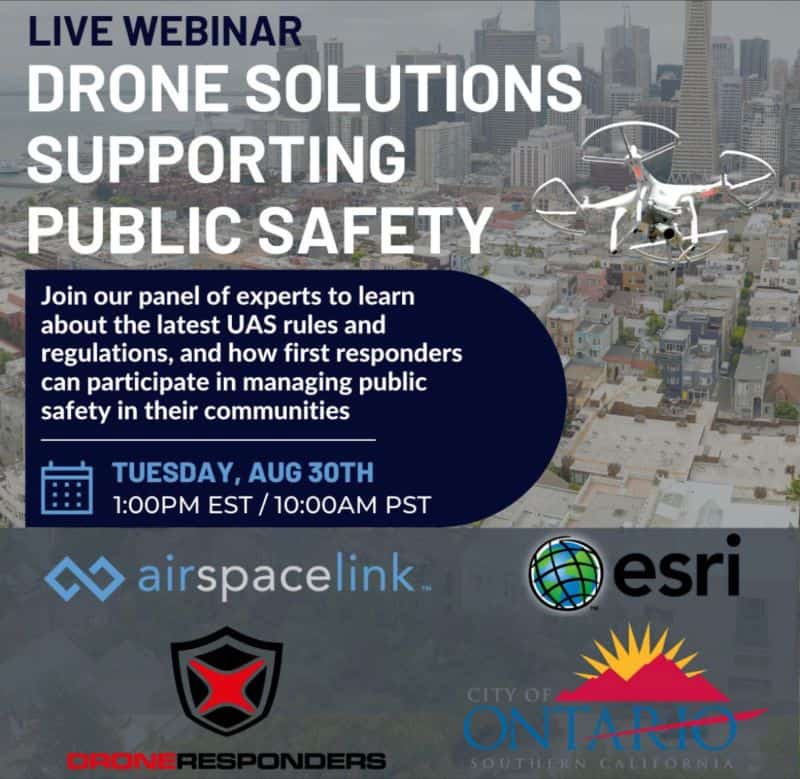 Join the panel of experts to learn about the latest UAS rules and regulations, and how first responders can participate in managing public safety in their communities.
Speakers
Michael Healander – Co-Founder, President & CEO @Airspace Link
As Co-Founder, President & CEO of Airspace Link, Inc. Michael Healander is responsible for running all facets of the business. Michael has a proven executive management track record and 15 years of experience driving growth in the UAS and geospatial industry. Prior to starting Airspace Link, Michael was the co-founder of Geometri where he built an indoor mapping, analytics and navigation business that was successfully acquired by Acuity Brands (NYSE: AYI). Michael also served on GISinc management team for six years and was recognized as a leader in location technology. GISinc was also successfully acquired by Continental Mapping. Michael has 20 years of experience in spatial technology, 12 years in state & local government, 7 years in the aviation, Ag, retail & logistics industry, 3 years in Federal (DoD) and currently holds an FAA commercial drone pilot license.
Chris Smith – Inside Sales Executive @Airspace Link
Chris Smith comes to Airspace Link with 17 years of law enforcement experience with the Johns Creek Police Department and the Fulton County Police Department. During his last 6 years, he has been involved in the UAS Program for the Johns Creek Police Department. While managing the UAS Program, he was able to get the Tactical BVLOS Waiver approved for the program, grew the program from 2 operators to 10, and trained all the patrol officers as Visual Observers. He is a current member of Drone Responders and is an APSA NIST BPERP Proctor. He continues to work with the UAS Program at Johns Creek. He leads the monthly training exercises and is available for Call Outs.
Charles Werner – Director/Founder @DRONERESPONDERS
Chief Charles L. Werner Ret. has served 47 years in public safety. Charles started his career as a firefighter with the Charlottesville VA Fire Dept. as a 37 years, serving the last ten years as fire chief. Charles also served two years as a reserve deputy with the Albemarle County Sheriffs Office. Following retirement, Chief Werner served for 2 years as senior advisor and deputy state coordinator for the Virginia Dept of Emergency Management. Chief Werner has served in numerous local, state and national leadership roles on various public safety topics. He presently serves as Director/Founder of DRONERESPONDERS and is an FAA Certificated Remote Pilot.
Jimmy Chang – Director of Innovation, Performance, and Audit (IPA) @City of Ontario, California
Jimmy is the Broadband General Manager in the City of Ontario.  Under his guidance, the City has conceptualized, designed, constructed, and now operates one of Southern California's first municipal-owned broadband fiber optic networks – OntarioNet. Jimmy's business acumen, along with his multi-faceted team, helped launch OntarioNet into a fast-paced business unit through the vision of the Mayor and City Council, providing competitive low-cost internet services to the community.  In addition to Broadband, Jimmy is engaged with the City's Innovation, Performance, and Audit (IPA) team in cultivating a spirit of innovation within the organization, measuring what matters for operational performance and supporting a transparent government for compliance and continual improvement. Previously, Jimmy worked in the private sector managing their global telecommunications and networking operations.  Jimmy holds a B.S. in Business Administration from California State University, Long Beach.
Mike Cox – Director, Fire & EMS Solutions @Esri
Mike Cox is the Director of Fire and EMS Solutions for Esri, the world leader in GIS technology. Mike's responsibilities include advocating how fire and EMS agencies leverage geospatial information and technology to achieve their response and recovery goals. As a member of the Public Safety Industry Marketing team, he works collaboratively with GIS professionals to promote the broad use of Esri's ArcGIS platform within fire and EMS. Mike retired from the Henrico County, VA Fire Department after 27 years of service. He served as the Deputy Chief with responsibilities including operations, emergency management, community risk reduction, planning, accreditation, budget, and human resources. He is also a member of the Central Virginia All Hazard Incident Management Team, was the technical rescue team leader, and served as a haz mat specialist on the Virginia Department of Emergency Management's Regional Haz Mat Team.