Webinar Details
Hosted by
July 9, 2020, 13:00 (UTC)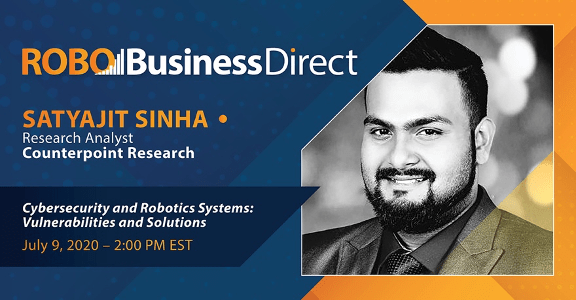 One class of edge products, rarely mentioned in the typical IoT discussions and analyses, also provide for actuation. That is, they are robotic devices. Like other 'connected' IoT devices, robotics systems are open to security threats, which can be one roadblock to their widespread deployments.
In this session, Counterpoint Research's Satyajit Sinha will discuss current and future cyber security threats to networked robotics systems, highlighting their vulnerabilities in the process. He will also describe various cyber security solutions and provide a competitive landscape of security solutions for robotics systems.
Speakers: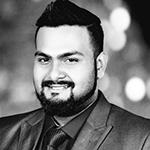 Satyajit Sinha
Research Analyst
Counterpoint Research
Satyajit Sinha is a Research Analyst with Counterpoint Technology Market Research, where he focuses on IoT, mobility, cyber-security and smart device ecosystems. In this role, he created research services for Counterpoint's IoT and cyber security groups, and assisted global IoT players with the development of their market/solution strategies. Sinha is the author of many IoT industry reports and articles, and is widely quoted by global media houses including Wall Street Journal, Reuters, Bloomberg, Forbes, Fortune and others. Prior to joining Counterpoint Research, Sinha was an Equity Research Analyst, where he focused on the information technology industry. He was responsible for the preparation of financial models to include individual sell-side analyst financial models after research work for earning results and other event updates on various stocks listed on NYSE and NASDAQ.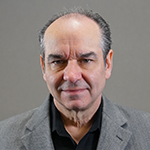 Dan Kara
Vice President, Robotics
WTWH Media
Dan Kara is Vice President, Robotics at WTWH Media where he charted with driving the company's robotics and intelligent systems initiatives. Prior to joining WTWH, he was Practice Director, Robotics at ABI Research and Chief Research Officer for Myria RAS, both research and advisory services firms focused on automation, robotics and intelligent systems. Dan was also President of Robotics Trends, an integrated media and research firm serving the personal, service and mobile robotics markets. He was the developer and past chairman of the RoboBusiness Conference and Exposition series, the RoboDevelopment Conference and Exposition series, the RoboNexus Conference and Exposition series, and the CES Robotics TechZone. He holds a MS in Computer Science from Boston University.