Connectors in UAVs provide an interface for routing power, data, and signals to and from different subsystems within the platform. Manufacturers and designers of UAVs may use connectors to route between UAV power and control systems, guidance systems, GNSS/INS and integrated or external payloads such as laser scanners, LiDAR and thermal or visual cameras.
Connectors are manufactured with a wide variety of features, layouts, materials and specifications, so choosing a connector for a particular UAV application will be highly dependent on the design requirements.
This article outlines some of the key options and considerations, such as SWaP (size, weight and power), signal types, and environmental requirements, in selecting connectors for drone-based applications. It also highlights some of the leading suppliers of connectors (jumps to this section).
Factors to Consider for UAV Applications
There are many different types of UAV platforms, ranging from large high and medium altitude UAVs often used by the military for defense and long-range surveillance missions, to smaller low-altitude VTOL drones used for short-range commercial applications. Each platform will have varying requirements with regard to interconnect solutions and connector selections. That said, the following factors should generally be considered when selecting a connector for a specific UAV.
Size, Weight and Power (SWaP) Requirements
Connectors for UAVs often need to be lightweight and compact with a small form factor in order to meet constrained SWaP requirements. Weight savings made at the component level allow UAVs to carry heavier payloads, as well as to save fuel or fly for longer. Smaller and lighter weight connectors generally allow for smaller UAVs, such as man-portable units used for military and swarm applications.
Environmental Considerations and Durability
Connectors for UAVs must be able to withstand a variety of demanding and harsh environmental conditions, whilst maintaining high reliability. Connectors used in UAVs are typically ruggedized, making them suitable for use in high vibration and shock environments. Unmanned aircraft can experience rough landings and heavy vibration can be an issue particularly on long endurance missions, so components such as connectors must have high shock and vibration tolerance.
UAVs may encounter adverse weather conditions, as well as high levels of airborne particles such as sand, ash and dust. Connectors are available with environmental sealing and a variety of protection ratings for dust and water. Commonly encountered ratings include:
IP64: dust tight, capable of withstanding splashed water
IP67: dust tight, capable of withstanding temporary immersion in water
IP68: dust tight, capable of withstanding prolonged immersion in water
IP69K: dust tight, capable of withstanding high pressure water and steam jets
A connector's temperature rating is also likely to be important, as it may need to withstand extreme temperatures, for instance when used in drones operating in colder climates, or UAVs with large and powerful engines. Operating ranges for connectors may be as wide as -55 to +200 degrees Centigrade.
Connectors used in UAVs may be exposed to electromagnetic interference (EMI) and electromagnetic pulses (EMP), which can interfere with the signals being carried through the connectors. EMI shielding is necessary to mitigate the effects of such issues.
Performance Requirements
Connectors need to be able to maintain signal integrity as they transfer signals between UAV subsystems. Signal degradation is a particular issue in high-speed applications, and UAV manufacturers may require connectors that are capable of transferring large amounts of high-resolution video at ever-increasing speeds.
Connectors that transfer power through UAVs, such as those used for batteries and high-power motors, may need to be capable of withstanding high currents and voltages. These connectors may be made of highly insulating materials and be designed to allow airflow in order to decrease temperatures and prevent melting.
Connectors that are used for subsystems which are regularly swapped out from the UAV, such as batteries and sensor payloads, will need to be able to withstand high numbers of mating cycles without mechanical failure.
Features and Specifications of Connectors for UAV Applications
Interconnection solutions typically consist of two parts – the receptacle, which contains pins, and the plug, which contains sockets that the pins mate with.
Connector Contacts
The number of contacts in a connector can range from one to several hundred. They may be attached to copper wires in a variety of gauges, coaxial cables, or optical fibres. Fibre optic connections are especially suitable for UAV aerial photography and video applications, where high-speed data transmission is essential.
Connectors may house contacts of mixed size, as well as with more than one function, transmitting power as well as data and signals in the same interface, and even mixing fibre optic cables with low and high-voltage wires. Such multimode connectors offer significant weight and space savings for UAVs and other SWaP-conscious applications.
Connector Types
Both custom and COTS (commercial off-the-shelf) connectors are available in a variety of form factors, such as circular, rectangular/strip, and technology standard form factors such as USB, Ethernet and D-sub.
UAVs for defense applications may require OEMs (original equipment manufacturers) to meet certain standards. MIL-SPEC or MIL-STD connectors are rated to meet these specifications for factors such as vibration, durability, corrosion and temperature. These connectors are often used for larger UAVs that operate at medium or high altitudes.
Many standard connectors, such as MIL-38999 circulars and D-Subs, are too large for modern miniaturized UAVs. Micro- and nano-miniature connectors have evolved to fill this need, offering extremely small form factors while still meeting or exceeding the mission-critical requirements for UAVs. The smallest of these connectors are built around a 0.025" pitch.
Coupling and Locking Methods
Many connectors operate using a push-pull mechanism, and circular connectors may have a screw threading or bayonet locking system to prevent unmating of the plug and receptacle in high-vibration conditions. The most durable connectors are capable of withstanding thousands of mating cycles.
Latching connectors are ideal for applications such as UAV batteries, data storage modules or other components that may need to be swapped out quickly in order to get the UAV airborne again as soon as possible. These connectors need to be easy to operate, durable, and in the case of battery interconnects, capable of handling high currents.
Connectors with unique keying for mating pairs allow for prevention of user errors such as cross-mating or mis-mating, which may permanently damage the connector or cause a system to malfunction. This is a particular concern for larger modern unmanned vehicles, which can have a large variety of sensors and subsystems and thus very complex interconnections. 
Connector Materials and Construction
The shell material used for connector bodies is an important consideration, as it provides both protection and strength but will add weight to the overall connector. Generally, connectors are available with plastic or metal shells. Metalized composite shells are also available, providing a lightweight yet durable option, helping to reduce the overall weight of an unmanned aircraft. Aluminium is commonly used in higher-end components and provides EMC protection.
Connector backshells are available in a variety of different forms for specific applications such as panel mount, inline and right-angled. They may provide strain relief for the cable as well as EMI (Electromagnetic Interference) protection.
Connectors for cables that may carry high-speed signals need to be carefully designed to prevent signal degradation, ensuring that there is good continuity between plug and receptacle. EMI/EMP (Electro-Magnetic Interference/Electro Magnetic Pulse) issues also need to be taken into account, for instance by designing a backshell that allows clean contact with the metal braid used for terminating cables, and using decoupling to minimise crosstalk.
Selecting Connectors for UAV Applications
Engineers designing unmanned aerial systems must consider many factors, including signal types, SWaP requirements, environmental conditions and cost, in order to successfully create a suitable interconnection system for the vehicle. Manufacturers of connectors have developed a wide range of products suitable for UAV applications – here is an overview of some of the leading connector suppliers:
Fischer Connectors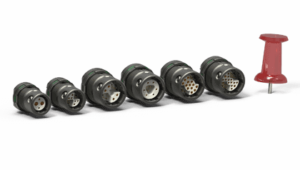 Fischer Connectors is a manufacturer of high-performance connectors and cable assembly solutions for rugged and mission-critical applications. The Fischer MiniMax™ Series is a range of high-density lightweight miniature connectors available in three latching systems: push-pull, screw lock and quick release.
The Fischer UltiMate™ Series of connectors offers a wide variety of rugged designs capable of withstanding high levels of shock & vibration, temperature and corrosion. All UltiMate™ connectors are sealed to IP68 (unmated) / IP69 (mated), feature 360° EMC shielding and can withstand up to 10,000 mating cycles.  Learn more >
Omnetics Connector Corporation
Omnetics Connector Corporation provide high-reliability nano- and micro-miniature connectors and interconnection solutions for UAVs that are lightweight, compact, and durable.

Their wide range of Nano Connectors, including circular, strip, bi-lobe and polarised varieties, features a military specification-compliant Flex-Pin contact system, spaced on 25 mil (0.64 mm) centerlines.
The rugged Micro Connector range, includes the compact Circular series, small form factor Strip Connectors, and high-reliability Micro-D connectors. These connectors are designed for harsh and extreme conditions where space and weight are a premium Learn more >
Nicomatic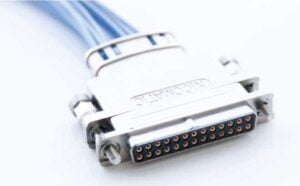 Nicomatic is a designer and manufacturer of electronic connectors and cables for power, information and video transmissions in UAVs and other robotics and weapon systems. Their lightweight DLMM metalised composite-shell connectors are designed for weight-and space-constrained UAV applications and provide superior EMI protection performance.
The EMM range of Rugged Micro Connectors is built around a 1.27mm pitch and has been designed to meet the performance requirements of MIL 83513 and withstand harsh unmanned systems environments. These connectors are ideal for applications where component size and weight are critical factors.  Learn more >