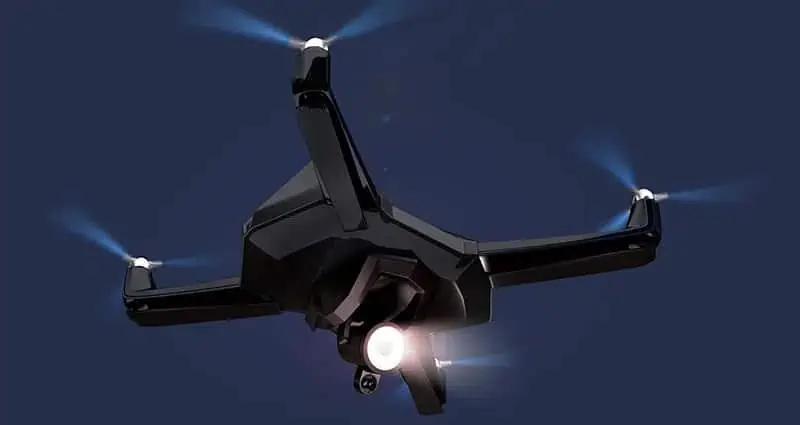 Roger Hall, Instructor at drone insurance provider Global Aerospace's partner DARTdrones, has authored the following article weighing up the risks and benefits of night-time UAS (unmanned aerial systems) operations.
It's true that more commercial and personal small Unmanned Aircraft Systems (sUAS) are populating the skies, not only during daytime hours, but also at night. The FAA reports 260,276 certified drone pilots in the U.S. as of January 2022. As flying a drone at night becomes more popular, it is important to weigh the inherent safety risks and benefits of night flight and to take into account some safety practices.
The FAA defines night as "the time between the end of evening civil twilight [period of sunset until 30 minutes after sunset] and the beginning of morning civil twilight [period of 30 minutes prior to sunrise until sunrise]."
There are many purposes for flying a drone at night, such as search and rescue, firefighting, surveillance, law enforcement and security, agriculture, entertainment, videography or locating a stable drone.
Drone Night Flight Risks
There are inherent risks in flying an sUAS at night. It is easier to lose visual line of sight of the drone, the pilot can't see obstacles easily and night physiology and night illusions can occur.
The FAA describes night physiology and night illusions and how to curtail their hindrances on its website, noting that, "Rods are the primary receptors for night vision. The concentration of cones can make a night blind spot in the center of the field of vision. At night, sharpness… color, depth perception, and judgment of size may be lost. Night illusions can cause confusion and distractions during night flying."
It behooves all sUAS pilots to educate themselves on the real risk of night illusions, including issues like motion parallax, geometric perspective, false horizon, reversible perspective illusion and fascination. Even the most experienced pilots can be fooled and shouldn't hold themselves above the risk.
Drone Night Flight Benefits
In spite of risks, there are many benefits to flying an sUAS at night. For example, a successful search and rescue mission was performed Christmas Day, 2021. Using thermal camera imagery, a drone helped locate and rescue two hikers in Virginia. Fox News reported, "Rescuers on the ground followed the drone's location and found two men who had set off on the trails before dusk without proper lighting or emergency equipment, according to Bedford officials."
Another benefit of drone-flying at night is found in a Wildfire Today report: "On the Taylor Fire in Oregon [in 2018], firefighters requested that the company's ScanEagle aircraft monitor an overnight burn operation… As it orbited at 8500 feet, the sensors and… pilot detected a spot fire… 100 feet outside the fire line in the "green" unburned area. The pilot talked directly with firefighters in an engine, telling them where it was."
FAA Rules for sUAS Flight at Night
As of April 21, 2021, the FAA-issued Operations Over People rule allows all drone pilots to fly at night, including civil twilight, without a waiver.
As a drone pilot, you must:
Be a Part 107 FAA-certified Remote Pilot. Existing pilots must complete free online recurrent training. The Part 107 exam for new pilots includes night flight questions.
Mark and register your drone.
Equip your drone with anti-collision lighting visible for at least three statute miles with a flash rate sufficient to avoid collision while mounted on top of the aircraft and to be seen from above when in flight.
Hold valid airspace authorization through FAA Drone Zone or an LAANC service supplier.
Safety Tips for Flying a Drone at Night
Before flying a drone at night, scout the flight area during daytime hours to note potential obstacles. Restrict the flight to what is safe and necessary. Use an additional system, like position lighting. Ensure the drone and lights are charged and calibrated, ND filter is off, and eyesight is adjusted.
Per the FAA, the remote Pilot in Command (PIC) should, "Look 5° to 10° off-center of the sUAS to help compensate for the night blind spot, avoid looking at bright lights after adapting to darkness, designate…VOs to scan, establish a night landing area that is illuminated…, [and] immediately land the sUAS if you cannot determine its location relative to another aircraft."
Flying a Drone at Night Is Worth It
All risks and benefits considered, if safety measures are effectively implemented, and respect for the skies, the drone, oneself, and others is exercised, flying a drone at night is definitely worth it. By following the guidance of the FAA, obtaining proper training and certification and embracing ongoing self-study and reputable courses, Part 107 FAA-certified pilots can not only fly their drones safely at night, but they can also enjoy it.