Times Microwave Systems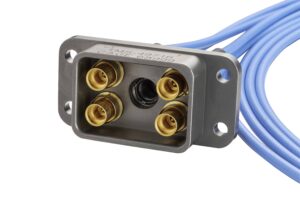 has released the following article detailing how unmanned aerial systems (UAS) must handle challenging environmental conditions while packing greater functionality into smaller spaces, and how high-density, modular multiport interconnect systems are meeting this requirement to deliver high signal integrity and reliability.
Today's unmanned aerial technologies, including intelligence, radar, collision avoidance, electronic guidance, navigation, electronic warfare, and communications, require higher frequencies to provide increased bandwidth for a growing number of complex subsystems. For example, the RF systems in unmanned aerial environments that once operated at frequencies of 12-18 GHz are now extending into the millimeter-wave (mmWave) frequency range of 30 GHz and beyond. As a result, system manufacturers are creating advanced new system designs to meet these evolving needs while accommodating extremely restricted space constraints.
The high-frequency RF interconnections within those systems are essential components—they must perform repeatedly and reliably and meet reduced size, weight, and power (SWaP) requirements. At the same time, the RF coaxial cables and connectors operating in unmanned aerial applications have complex mechanical, electrical, and environmental needs and must remain accessible for maintenance or troubleshooting.
The Multiport Shell Solution
SWaP equipment requirements require coaxial assemblies to maintain reliable electrical and mechanical interconnections in tight spaces and under the most severe operating conditions. However, fitting these complex systems into tight spaces can allow unwanted coupling between RF transmission lines such as coaxial cables.
High-density, modular multiport interconnect systems solve this problem by creating a smaller connector assembly with a higher interconnection density than individual coaxial connections due to integrating multiple coaxial connector contacts into a single housing. By mating a single multiport connector rather than numerous separate coaxial cable assemblies, the single connector interface provided by multiport shells reduces installation time, can ease system maintenance and testing, and increase reliability.
Solutions such as the M8 multiport connection system from Times Microwave Systems are constructed from lightweight aluminum and have advanced Reach/ROHS compliant conductive platings tested to the most severe corrosion resistance requirements. The M8 multiport system features a well-shielded structure to meet the EMI/EMC requirements of densely packed military and civil avionics systems and a design that allows for blind-mating interconnections for ease of installation. They are spring-loaded with sufficient force to ensure full mating engagement under severe vibration.
As the leader in multiport and mini-multiport shells and high-density solutions, Times Microwave Systems has also worked closely with prime contractors to develop plating materials with excellent salt fog resistance (2,000 hours) and Sulfer Dioxide resistance (668 Hours). This plating type is used on the latest, cutting-edge airframes as it is intended for use in harsh airborne and maritime environments requiring shell-to shell-conductivity.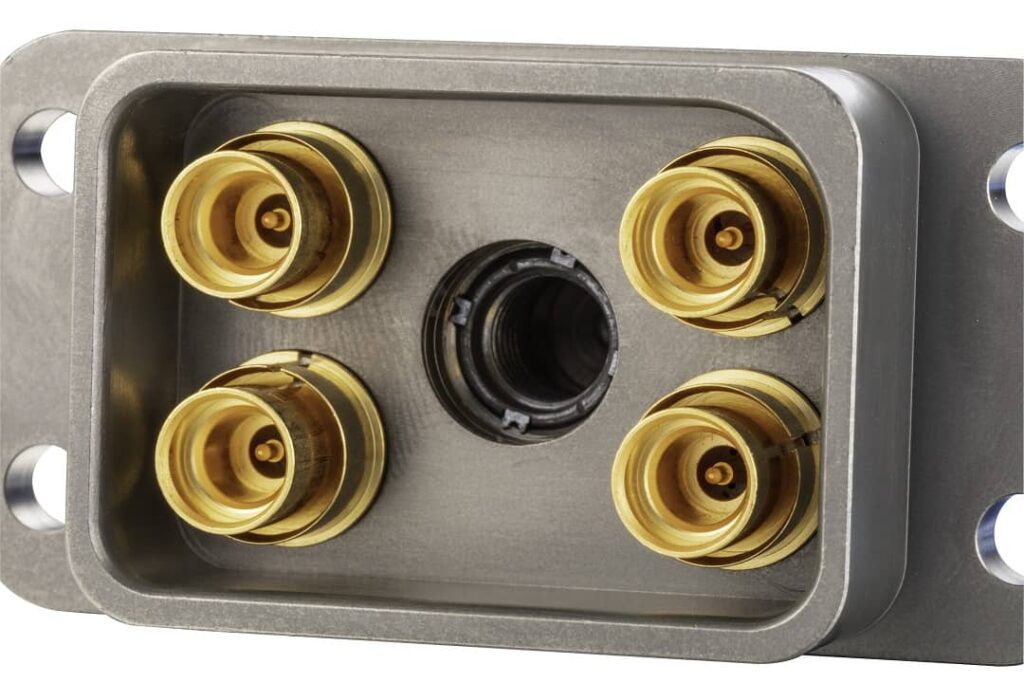 New Contacts Provide Expanded Capabilities Within Existing Infrastructure
Unmanned aerial interconnect systems operate in harsh environments on a wide range of airframes, enduring high-shock and vibration; corrosive effects of hydraulic fluids, fuels, and other chemicals; high altitude conditions; and wide temperature ranges. These unmanned aerial systems must handle these challenging environmental conditions while packing greater functionality into smaller spaces. This requires new connector solutions to deliver high signal integrity and reliability.
The new M8M contact from Times Microwave Systems, based on time-tested multiport connector designs, is ideal for this environment. It was created for high-performance and easily survives harsh environments where high vibration, shock, temperature, and humidity can cause cable and system performance degradation.
The M8M contact is an addition to the Times Microwave Systems trusted high-performance M8 family of multiport interconnects, including the original M8 (18.5 GHz) and M8E contact (23 GHz) and lightweight, low insertion force V8 (18.5 GHz) contact. The new M8M contact works up to 40 GHz to meet the needs of high-frequency applications while using existing multiport shell infrastructure already in place. It is compatible with all M8 shells, and its unique construction makes the M8M contact excellent for use in the high vibration, harsh environments typically found in unmanned aerial applications.
The M8 family of multiport interconnect solutions has been the go-to system for many platforms worldwide throughout its more than 30-year history. Many tens of thousands of these parts are in service on a wide variety of US and allied military aircraft and have logged hundreds of thousands of flight hours. Times Microwave System also has fiber optic and octo contacts to fit into the same shells if multifamily interconnects are needed.
Conclusion
New RF interconnects for unmanned aerial systems must meet higher frequency requirements while retaining their predecessors' lightweight and small form factors to meet the high-density needs of modern airframes and avionics systems. High-density modular multiport interconnect systems integrate multiple coaxial connector contacts into a single housing to create a higher interconnection density than possible with standard coaxial connectors. Building on the legacy of the trusted, proprietary Times Microwave M8 design, the M8M contact is an example of innovation that brings 40 GHz capability to multiport interconnect systems—using existing shell infrastructure already in place to maximize current investments.