Developers of a powerful inspection software analytics platform for professional drone surveying, inspection, and modeling applications, gNext Labs offer a modern solution for insurance companies to underwrite policies, process claims, detect fraud, and deliver better customer service.
As well as advocating using drone technology to enhance the inspection process, in the following article gNext explores how their secure, cloud-based software enables users to store and visualize data, in a scalable and shareable environment, providing faster access to better data.
Sometimes, there's more to something than meets the eye. That includes potential hazards hidden in plain sight. This is why asset inspection has an essential role in the insurance industry.
Insurance inspectors evaluate the condition of structures and assess the amount of coverage asset owners are eligible for based on any present risks. They aim to ensure everyone's safety in the long run and help asset owners cover their bases in the event of an accident or property damage. Accidents and natural disasters can strike at any time, and occasionally, it's when we least expect it.
The Ramifications of Deteriorating Infrastructure
That being said, aging buildings bear more risks than their newer counterparts. While there is definitely a certain charm to owning or renting older properties, there are some dangers too. Over time, building materials can deteriorate or go on to fail if they are not maintained properly.
However, even well-maintained properties can have undetected defects. For instance, in October 2022, an apartment building in Hialeah, Florida partially collapsed, displacing 15 families. A resident noted that she saw large cracks on the underside of a second-floor exterior walkway and moments later, the walkway crashed to the ground. Hialeah Mayor Esteban Bovo said that the sixty-year-old building passed recertification in 2018, however, there had to have been some damage that wasn't caught at that certification, or that had happened since then. Mayor Bovo announced that he would be working with Miami-Dade County to see if there is more that needs to be done for the area's older buildings. He stated, "Maybe there should be another level of inspection, because as time goes by, these buildings become, their life expectancy, you need to keep giving it tender loving care."
Case in point, it can be difficult to identify the true condition of properties and to determine if property damage is pre-existing. What's more, inclement weather can exacerbate these issues. The National Oceanic and Atmospheric Administration report that incidents of extreme weather are projected to increase as a result of climate change. It's estimated that damage from weather and climate disasters in 2022 alone could exceed $100 billion in the U.S. by the end of the year. These severe weather events wreak havoc on infrastructures like homes and businesses and put people's lives at stake.
That's why asset owners and insurance companies need a reliable way to evaluate properties in detail and help mitigate risks.
This is where the gNext Platform comes in.
gNext offers a modern solution for insurance companies to underwrite policies, process claims, detect fraud, and deliver better customer service. We aim to empower customers with access to better data right at their fingertips. The gNext Platform is a secure, cloud-based software that allows users to store and visualize their data, in a scalable and shareable environment. It provides seamless integration capabilities making for effective workflow and collaboration. This software was designed to support insurance companies every step of the way.
Our insurance customers can use a combination of images and/or video to capture and document current asset conditions in conjunction with drone-collected data. With numerous model layers and an ever-growing library of tools, insurance claims processing can be done efficiently. Once claims are filed, insurers can use gNext to process and review data, and determine which claims are fraudulent and which are valid — a challenge the insurance industry has struggled with from the beginning.
Investigations are stressful for everyone as they can be costly, take a long time, and payouts may be delayed. Additionally, improper payouts decrease profitability and encourage similar delinquent behavior from others. But gNext tackles these issues head-on. Users can compare digital twins from underwriting to determine the property condition at policy issuance compared to when claims are filed. With gNext, claims are processed faster and more accurately.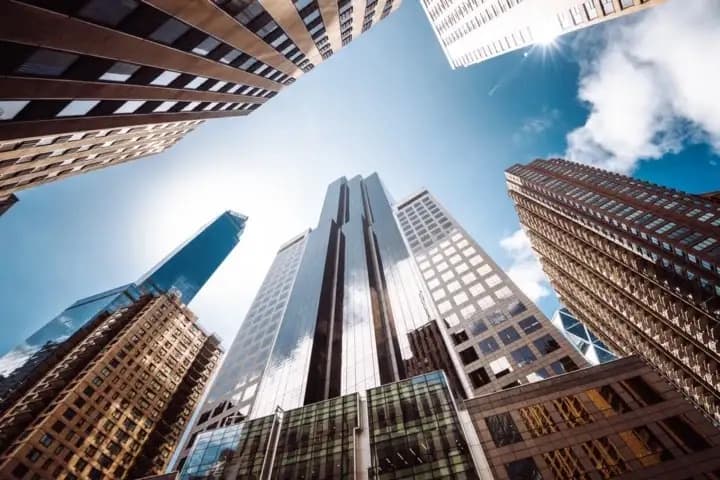 How Insurers Can Benefit From gNext
The gNext platform can support insurance underwriting, claims, and insurance fraud detection in structures such as buildings, homes, high rises, and apartment buildings. Utilizing drone-collected data, insurers can gain information about the structure location, dimensions, and condition prior to underwriting. That makes it possible for insurers to survey infrastructure safely and quickly, without the need for extensive preparatory work. Rather than shutting down production or implementing safety measures prior to inspections, adjusters can carry out procedures remotely — out of harm's way.
Typically, an insurance inspection is performed manually, using cameras to photograph assets. But some areas are more difficult to document, such as rooftops and high walls, which sacrifices the quality of the captured data. A major problem with building inspections is accessing hard-to-reach exteriors and surfaces. The traditional methods which often require scaffolding, swing stages, climbing gear, or rope access are time-consuming, expensive, and dangerous to use. Using these inspection methods puts inspectors at risk of falling or becoming electrocuted on overhead powerlines, and it could cause a structure to collapse.
The risk only increases with taller, more complex properties, which drives up inspection costs. Even with a variety of tools, inspectors are not able to capture comprehensive details of certain surfaces due to the environment or lack of accessibility. These expenses, which are commonly passed on to the asset owners, have been one of the biggest reasons many try to avoid inspections. That only can lead to more costly challenges in time.
This is why we advocate using drone technology to enhance the inspection process. Many companies have begun to switch to this method already. With drones, we can gather high-definition aerial images and footage of assets allowing customers to detect defects that may not be visible otherwise. By making an aerial assessment, insurers can quickly spot risk areas and react in a timely manner, reducing the total amount of damage. This saves money and enables better resource management. Research shows that using drones instead of manual inspection methods can save more than 80% in costs. Inspecting assets like commercial buildings traditionally require scaffolding and laborers, but that's not the case with aerial assessments.
Regardless of how inspections are performed, inspectors need to be able to process and analyze asset data with ease. gNext offers that and so much more. With the ability to measure high-resolution video, images, and 3D models, adjusters can better understand the state of properties and support the validity of claims. The visualization tools additionally help users identify when deeper issues need to be investigated. Users also have access to Artificial Intelligence assistance, as well as expert support and project assistance. Together, customers can gain a better understanding of asset conditions to properly price and manage risk for every party involved.
The gNext software will work on any device that can connect to the Internet, and it is fully browser-based. Those who want to use the platform won't need to download or install anything to get started.
gNext makes working on projects much simpler. With the software, users can upload, stream, edit, and annotate photos and videos for inspections. If necessary, our customers can lighten dark images or use Machine Learning to detect and examine defect details. These features allow inspectors to confidently tackle areas of vulnerability. To further empower our insurance customers, asset data may be visualized in a variety of model layers including orthophoto, elevation, terrain, contour, point cloud, and textured mesh. The layers offer hyper-realistic, accurate views of assets from numerous angles and levels.
And rest assured, any asset data uploaded to the gNext cloud will remain secure. Cybersecurity is a major concern in the infrastructure sector, therefore, we've made efforts to ensure your information stays protected. Our platform resolves numerous identified risks including data ownership, encryption of data, deletion or corruption of data, etc.
gNext also provides multi-format support for input and output. Long are the days of seeing the "File format not supported" error message. There's no need to jump through hoops to work with your files on the gNext platform. The same goes for collaborating with team members. Our customers can draw and annotate directly on their model to communicate with other partners or asset owners, so everybody is on the same page. That is one of our main goals at gNext.
By working together and using our advanced tools to perform comprehensive insurance inspections, we can create safer spaces for people to live and work in. Like Hialeah Mayor Esteban Bovo said in regard to the apartment walkway collapse, we ought to take asset inspections to the next level to protect everyone. The gNext software can be an asset in preventing dangerous occurrences like such, and tragic events.
gNext is part of the revolution for creating a safer future, and the future starts now.