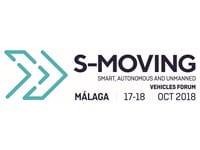 About S-Moving Forum
S-Moving is the reference space for companies, professionals, organizations, and public administrations of Smart, Autonomous, and Unmanned Vehicle sectors.
S-Moving is an international forum dedicated to sharing the technologies applied to smart mobility, autonomous, connected, and unmanned by land, sea, and aerospace, and its infrastructure, which gives this meeting a transversal and multi-sectoral approach in which the participants can establish synergies, make contacts, find business opportunities, and learn about the latest trends in these sectors.
The opportunity
The autonomous and connected mobility systems represent a great opportunity for the development of new forms of present and future transport.
Robotics, self-learning, artificial intelligence, 3D printing, IoT, LIDAR… have a large potential for growth in the various fields of activity of these systems: land, maritime, and aerospace.
The innovation and application of new technologies to the autonomous and connected systems will lead to a real change in the transportation models of both people and things, as well as in the field of defense, rescue, research, etc…
These vehicles offer the possibility of numerous applications in various fields of production, business, social, and environmental issues.
In addition, they will reduce the reaction time, improve job security, in transport, in emergencies, and in a variety of fields.
More Information and Registration
To learn more about S-Moving Forum, to register to attend or exhibit, please click below.