Event
Maritime Reconnaissance and Surveillance Technology 2017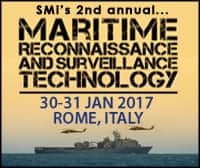 About Maritime Reconnaissance and Surveillance Technology 2017
Maximising Maritime Situational Awareness Capabilities for the Safety and Protection of International Waters
Gold Sponsor: PAE
Sponsored by: exactEarth
Following the success of the 2016 conference, the SMi Group is proud to announce the 2nd Maritime Reconnaissance and Surveillance Technology. The event will be held in Rome on the 30th and 31st of January 2017.
We aim to replicate and improve on last year's event,  by providing a more regional focus -not just on the Mediterranean, but other areas of interest including the Black Sea and further beyond in the Asia Pacific region. All of which have a keen collective interest to ensure the safety and security of legitimate maritime activities.
This high level meeting will bring together senior military leadership, project decision makers, technical experts and cutting edge industry solution providers, to explore future endeavours that will enhance the security and stability of the world's oceans.
The 2017 programme will:
Provide a wider regional focus outside of the Mediterranean where challenges are also persistent
Feature high ranking military personnel involved with the enhancement of maritime surveillance platforms and systems
Present a running theme on the importance of information sharing as operations are increasingly conducted at an international level
Include Informal networking time to talk to peers and colleagues also shaping and influencing Maritime ISR programs today
Allow learning on how other nations are developing their maritime surveillance and reconnaissance provision from past experience and cutting edge research and development
Get to the heart of challenges faced by modern maritime forces such as capability gaps and what requirements they now have
HOST NATION KEYNOTE SPEAKERS:
Rear Admiral Giovanbattista Raimondi, Chief of C4 and Security Department, Italian Navy
Rear Admiral Nicola Carlone, Chief of Operations, Italian Coast Guard
Colonel Sergio Cavuoti, Chief of the Intelligence and Awareness Policy Branch of the Air Staff Aerospace Planning Division, Italian Air Force
 REGIONAL EXPERT SPEAKERS:
Rear Admiral Enrico Credendino, EU Navfor Med Operation Commander, EU Naval Force
Commodore William Ellis, Commander CTF-67, US Naval Forces Europe
Captain Jan De Beurme, Chief of Staff, Belgian Navy
Captain Fernando Angelo, Director, Navy Intelligence Analysis Centre,  Portuguese Navy
Wing Commander Richard Berry, P-8 Poseidon Program Manager, Royal Air Force
Commander Michael Sela, Head of C5I Branch in the R&D department, Israeli Navy
Commander Pasi Staff, Chief of Surveillance, Finnish Navy
Commander Hannes Schroeder-Lanz, Branch Chief C4ISR, Germany Navy
Guy Thomas, Director, C-SIGMA
Gerard O'Flynn, Head of SAR Ops, Irish Coast Guard
Leendert Bal, Head of Department C Operations, European Maritime Safety
Joachim Beckh, Technical Working Group Chair, MARSUR
Vice Admiral (Ret'd) Peter Hudson, Former Commander, NATO MARCOM
HOW TO REGISTER:
Early-birds available:
Book by 30th September to save £400
Book by 31st October to save £200
Book by 30th November to save £100
Register online at: www.maritime-recon.com/ust or email Justin Predescu on
[email protected]
More Information and Registration
To learn more about Maritime Reconnaissance and Surveillance Technology 2017, to register to attend or exhibit, please click below.