Event
International Drone Expo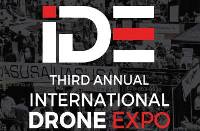 About International Drone Expo
The 3rd annual International Drone Expo (IDE), the largest gathering of the global commercial drone community, will take place December 9-10, 2016 at the Los Angeles Convention Center.
IDE brings together global sUAS companies, international drone delegations, business leaders, government leaders, international sUAS associations, general aviation associations, and drone innovators from around the world.
Focusing on all the most important aspects of the future of unmanned aviation, the 2016 event program line up will include a multitude of profitable drone applications, new, more powerful and lower price sensors, smaller and longer flight duration drones and much more groundbreaking technology.
With its theme of "The Drone Business Today!" the 2016 IDE Business Conference will provide a platform for empowering technologies and focus on next-generation innovation. The broad acceptance of drones across the world has ushered in the fourth stage of the Industrial Revolution. Business and consumer markets are exploding with applications and the future of UAS is reshaping our personal and professional lives, pushing policy makers to the limits.
Receive 30% off Conference passes; enter code "IDE30" at the check-out. Offer ends 5th Dec. Register now >
More Information and Registration
To learn more about International Drone Expo, to register to attend or exhibit, please click below.