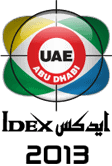 About IDEX 2013
First held in 1993, IDEX (International Defence Exhibition & Conference) is the largest tri-service defence exhibition in the Middle East and North Africa (MENA) region.
IDEX takes place biennially under the patronage of HH Sheikh Khalifa Bin Zayed Al Nahyan, President of the UAE, and is organised by ADNEC (Abu Dhabi National Exhibitions Company) in association with the UAE Armed Forces GHQ.
IDEX, the only tri-service international defence and maritime security exhibition in the MENA region, demonstrates the latest technology across land, sea and air sectors of defence.
It is a unique platform to establish and strengthen relationships with government departments, businesses and armed forces and in 2011 attracted 1,060 exhibiting companies from 52 countries and over 60,000 attendees.
IDEX 2013, with Tawazun as the Headline Sponsor, will take place at the Abu Dhabi National Exhibition Centre, Abu Dhabi, United Arab Emirates from the 17th-21st of February.
More Information and Registration
To learn more about IDEX 2013, to register to attend or exhibit, please click below.