Event
Arizona UAS Summit & Expo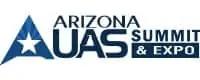 About Arizona UAS Summit & Expo
The Arizona UAS Summit & Expo will reveal for the first time the current impact of unmanned aircraft systems and the future opportunities linked to Arizona and the greater southwestern U.S.
Produced by UAS Magazine and the Arizona Regional Economic Development Foundation, this unprecedented event will provide insight into the regional commercial markets in need of UAS, current or future research and testing activities and ongoing government-led UAV operations and achievements.
From the smallest of the small UAVs to the biggest of the big UAVs, the Arizona UAS Summit & Expo will unite industry, end-users and interested parties looking to understand the complexities and immense opportunities present in the UAS space.
More Information and Registration
To learn more about Arizona UAS Summit & Expo, to register to attend or exhibit, please click below.