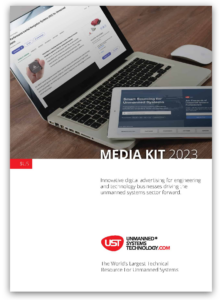 Advertising with Unmanned Systems Technology (UST) will allow you to reach a global unmanned systems audience, 24/7, 365 days a year.
We report on cutting edge technical developments. This provides our advertisers with a highly respected and targeted platform that raises awareness of their products, capabilities and services – and crucially provides high-quality leads.
Our 2023 media kit outlines our visitor demographics, as well as details and rates of our membership packages and advertising opportunities.
Simply complete the form below to receive an electronic copy of our media kit. Please detail any specific advertising requests in the message field.