Cloud Ground Control
Cloud Ground Control (CGC) is a state-of-the-art fleet management and mission planning system for UAVs (unmanned aerial vehicles), UGVs (unmanned ground vehicles) and USVs (uncrewed surface vessels). Providing compatibility with almost any brand of vehicle, as well as a wide array of sensors and payloads, CGC provides real-time browser-based command and control over 4G and 5G networks from anywhere in the world.
CGC is a scalable solution that allows simultaneous control and monitoring of fleets of up to a thousand vehicles, providing instant access to real-time telemetry, video and payload data. Vehicles that would normally be incompatible can be harnessed to provide vast collaborative power, streamlining interoperability and enhancing efficiency and cost-effectiveness.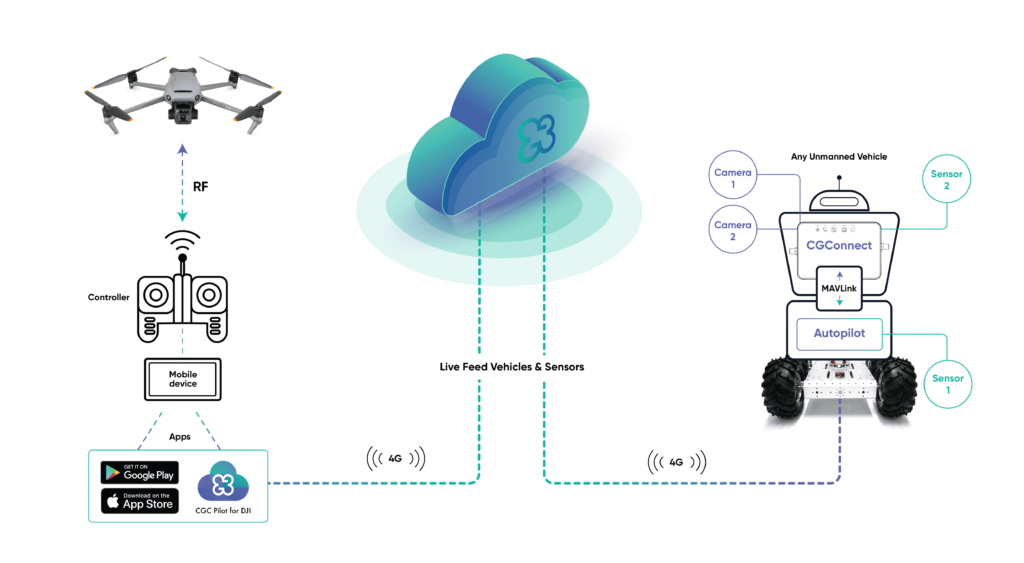 DJI drones can be connected to the CGC system via a mobile Android/iOS app, and other vehicles can utilize the CGConnect miniature plug-and play cellular modem.
CGConnect specifications:
Dimensions (L x W x H)
113 x 65.35 x 23 mm (inc. SMA connectors)
Weight
118g housed
55g OEM
Power
7-16VDC, 5W typical
Connectivity Speeds
150 Mbps download, 50 Mbps upload
Ingress Protection
IP31
I/O
1 Micro-USB
1 Ethernet
1 RS232 serial
1 TTL serial
1 Micro SIM
1 Micro HDMI input
2 x 4G antenna connectors