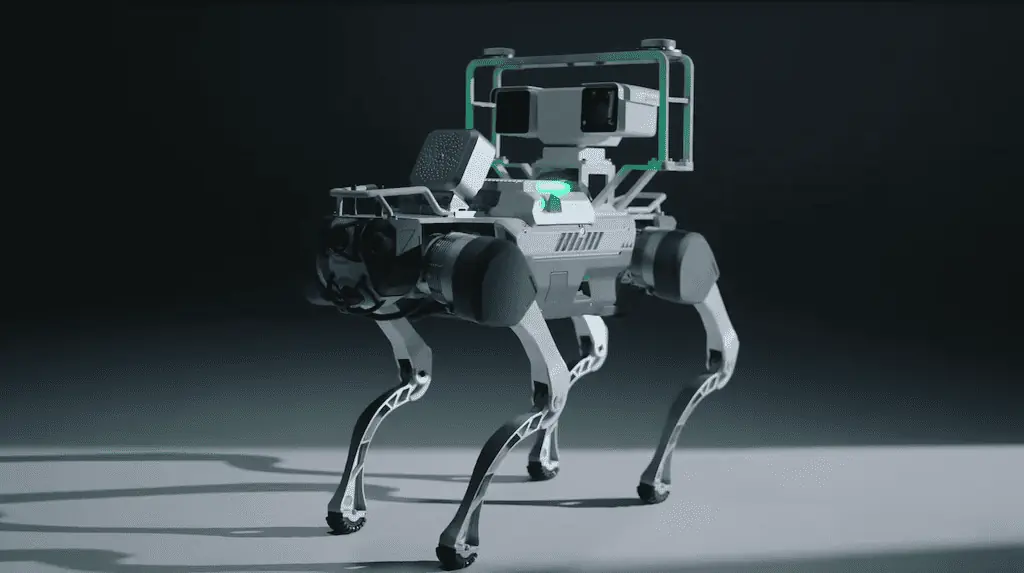 DEEP Robotics has launched its X30 quadruped robot, a flagship product designed to meet core industry needs in multiple fields.
The robot aims to help with inspection of power stations, factories, pipeline corridors, emergency rescue, fire detection, scientific research and more.
X30 incorporates DEEP Robotics' unique fusion perception technology, enabling it to rapidly traverse obstacles, navigate open riser industrial stairs in challenging, changing environments, conduct autonomous inspection day and night in any weather, and overcome other difficulties in an ever-growing number of scenarios.
It has a comprehensive real-time monitoring and emergency response system to ensure safer and more efficient intelligent operations.
X30 aims to break the boundaries in applications using its leg-joint technology, making the bionic quadruped robots flexible and agile, able to traverse obstacles and even replace humans in complex, harsh, and hazardous environments across a range of industries.
During the implementation of inspection, security, rescue and other tasks, different types of stairs have hindered traditional robots. These complex terrains make for a meaningful test for quadruped robots.
X30 is a combination of powerful locomotion and fusion perception ability. It is capable of climbing up and down 45-degree stairs with unprecedented speed and a dexterous posture.
It braves open-riser staircases with ease, responds to task requirements on the spur of the moment, and quickly adapts to more complex scenarios and blind spots.
Traditional inspection and rescue operations can take place at any time, day or night, when the lighting conditions on site are changeable and uncontrollable. With fusion perception capabilities, X30 can carry out such tasks regardless of the light environment, be it over-bright, dim, flickering or even complete darkness.
For practical applications, operators need to be able to quickly and intuitively assess the status of the equipment. X30 uses light interaction to bring the controller up to speed about its working status while autonomously avoiding collisions into random moving objects.
Coupled with an emergency stop button, X30 helps protect the safety of other parties and mobile platforms in industrial scenarios.
An extra-long battery life is standard a shared expectation for industry-level quadruped robots in numerous scenarios, and X30 features a 25% increase in endurance when laden with mounts.
On top of this, its battery has a quick-release capability to expedite battery changes. This design ensures that special tasks can be completed quickly, which is vital in the event of industrial emergencies.
Autonomous charging for robots is a basic requirement for unmanned inspection and autonomous operation, but lighting, grime and dust can impede a quadrupedal robot's ability to find a charging point. DEEP Robotics has independently developed a new generation of integrated positioning solutions to ensure a smoother and more effective charging process.
Compared to earlier editions of the quadruped robot, the operating temperature range of X30 has been extended to between minus 20°C and plus 55°C, broadening the extreme environments or climatic conditions in which it can operate.
"As a flagship model for the industry, X30's operating temperature range has greatly increased," said DongXin Zheng, Product Manager at DEEP Robotics. "It has been successfully tested in real-world scenarios in temperatures from minus 20°C to plus 55°C. It has also been vigorously tested at the IP67 protection level, indicating a very high level of tolerance of water or dust ingression."